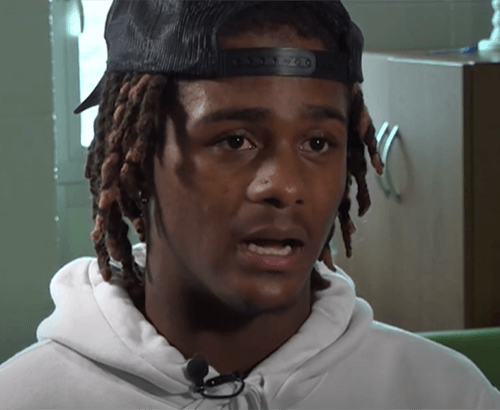 Senior Thundering Herd Safety André Sam (pictured) may be known for his work ethic on the football field, but it's his story off of the gridiron that is inspiring others. His near-lifelong battle with stuttering is helping him serve as a role model for young people who have speech impediments.
Sam recently sat down for an interview to discuss his stuttering journey, in a video titled André Sam: A Profile of Courage.
Dr. Jamie Maxwell, an assistant professor in the Department of Communication Disorders at Marshall University, said she first met Andre last year after he moved to the area.
"He is an amazing young man," said Maxwell. "The way he has developed a passion for advocating for kids who stutter to be resilient is inspiring."
Stuttering is a speech disorder that only affects 1% of the United States population, which is equivalent to 3 million people.
Sam says he first began stuttering sometime after his sixth birthday, after his father passed away. Shortly afterward, he also lost his grandfather. The disorder stuck with him and now at the age of 23, he is gaining more confidence in speaking.
"Do not stop talking like I once did," said Sam. "For someone to try to say what they really want to say and they can't say it, it's hard. For someone who doesn't know, just take your time with them to make them feel that they can always remain themselves around you. That's what I look for. I look for people who really want to talk to me and they know that I stutter."
"I think what is so special is the theme of resilience in his life," said Maxwell. "He has overcome so many things from losing family members to being bullied and teased. Through both supportive relationships and athletics, he has been able to find support, encouragement and confidence. In doing so, André was really able to be himself. He is a person who exudes personality, energy and kindness. When people meet André, I think they are drawn to those qualities in him."
Maxwell says stuttering affects each person differently, but Sam's story stands out because he has a willingness and passion to reach others, especially children, who stutter.
"I hope people really see who André is in the video and understand how significant him telling his story really is," said Maxwell. "I want people to hear what he has to say, without getting hung up on how he says it. I also hope this helps people understand what stuttering is and what it is not a little more. It has nothing to do with a person's intelligence or their abilities."
Sam says he truly feels like part of the Marshall Family and credits his time on the football team with helping him feel his best.
"Football, for me, is like my mind is completely blank," said Sam. "It's where I feel comfortable to just be me."
"There are a lot of myths about what stuttering is and what causes it," said Maxwell. "Stuttering is a difference in someone's speech patterns that has been linked to differences in how the brain wires and fires for speech production. It has nothing to do with a person's intelligence. It's not a disease, it's a difference. I think Andre's story reminds us to value people and what they have to say. We can all learn to be better listeners."
"I'm very unique, I'm not like most," said Sam. "I've learned to accept myself. It took 23 years, but I'm just glad that I'm starting to accept myself for me and I'm glad I am this way because I'm not like most."
André Sam: A Profile in Courage may be viewed by visiting http://bit.ly/AndreSam.
Recent Releases