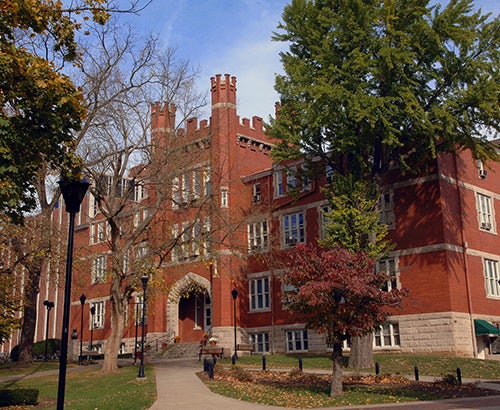 Marshall University (Marshall) today was awarded $1.5 million by the Appalachian Regional Commission (ARC) to establish West Virginia Grant Resource Centers (Grant Centers) to assist communities and other eligible applicants in developing competitive grant applications. The project is a collaboration among Marshall, West Virginia University (WVU), and the State of West Virginia's Department of Economic Development (WVDED).
"We thank the ARC's Federal Co-Chair Gayle Manchin and her team for supporting our efforts to build a national model that will assist local communities submit competitive grants," Marshall President Brad D. Smith said. "We have amazing leaders who have developed innovative solutions and strong visions for the future of their small towns and communities, but many lack the grant writing capacity to submit and win competitive proposals. We are excited to capitalize on the grant-writing capabilities and experience leaders at Marshall, WVU and across the state to assist our local community leaders with the pre-award process. We are stronger together!"
Representatives from Marshall, WVU and WVDED were onsite in Frostburg, MD for the official announcement today.
"Our coal-impacted communities are a vital part of Appalachia's 13 states and 423 counties—when our coal communities thrive, our entire region is uplifted," said ARC Federal Co-Chair Gayle Manchin.
The Grant Centers is a statewide project that Gov. Jim Justice says will enhance current economic development efforts.
"We're seeing record-setting growth and surplus right now, but there's so much more we can do to boost our communities around the state," Justice said. "This program provides the tools and education to bring more money into West Virginia. It'll also help support local economies and attract new people and businesses to the Mountain State. So, I'm all for it. What an exciting time to be part of West Virginia's story."
WVDED's Executive Director Mike Graney shared the governor's excitement.  "We are thrilled to support this project that will directly benefit communities across the state. Marshall and WVU are committed to assisting eligible applicants submitting competitive applications, thus capturing more investment dollars for projects like economic development, workforce investment and infrastructure projects," Graney said.
The focus of the Grant Centers is to build the state's proposal development and grant writing capacity; host workshops for communities to grow their independent application preparation and grant writing skills; offer grant writing certification so more professionals can obtain the skill; leverage expertise at the universities to build more competitive grant proposals; and enhance relationships with agencies and foundations.
"This full partnership between WVU and Marshall is a true service project that will build community capacity, flame innovative solutions and capture financial resources to help create more jobs," said Sara Payne Scarbro, associate vice president for government relations at Marshall, who will this oversee the project as its principal investigator.
Dr. Liz Vitullo, assistant vice president for Startup WV at WVU said, "This kind of collaborative effort is core to West Virginia University's land-grant mission, and it is the charge we heed from President Gordon Gee every day."
The Grant Centers program is expected to be fully operational beginning early 2023.  Additional details of the Grant Centers operations will be announced next month.
The Appalachian Regional Commission is an economic development partnership agency of the federal government and 13 state governments focusing on 423 counties across the Appalachian Region.
Additional quotes:
U.S. Senator Joe Manchin:
"I applaud Marshall University and West Virginia University for taking this step to reinvest in our local communities and equip them with the resources necessary to thrive and create new opportunities. Projects like the West Virginia Grant Resource Centers are the best example of the incredible work we can accomplish with the support of the Appalachian Regional Commission. I look forward to supporting these critical efforts," said U.S. Sen. Joe Manchin.
U.S. Senator Shelley Moore Capito:
"As the ranking member of the committee that oversees ARC, I know how critical the POWER program can be to strengthening communities across our state," U.S. Sen. Shelley Moore Capito said. "I'm thrilled to see this grant awarded to Marshall University to partner with WVU and the state development office to establish grant centers that will mean so much to the future of West Virginia. It's great news for job growth, workforce development, and investment right here in the Mountain State."