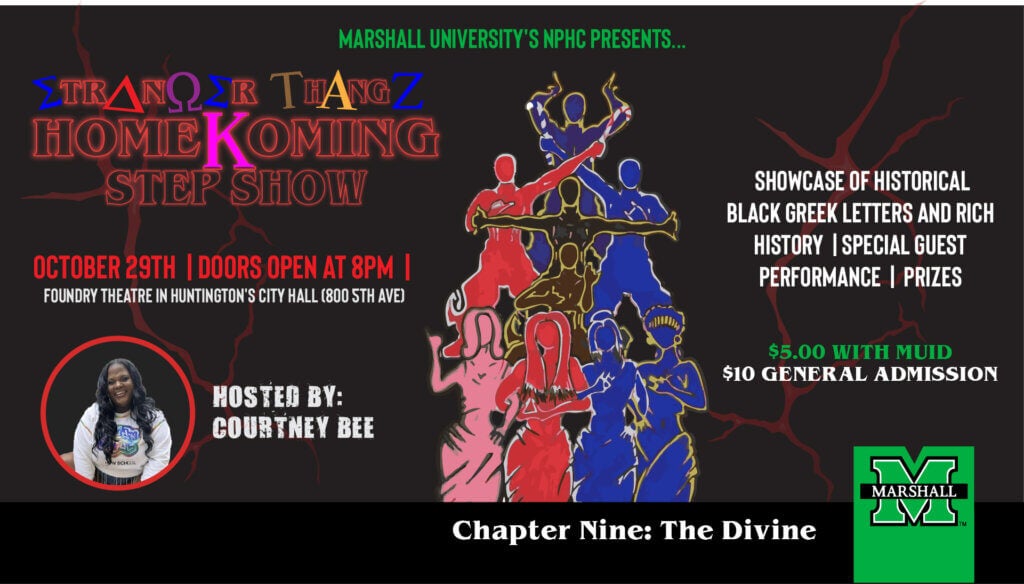 Marshall University will wrap up Homecoming week with its annual Homecoming Step Show on Saturday, Oct. 29, at the Foundry Theater at City Hall in downtown Huntington.
Corey Cunningham, coordinator of fraternity and sorority life, says the event is special because it introduces Marshall alumni and current students to a different side of the university.
"Most students and alums haven't seen the creativity that occurs when stepping, not to mention the beauty and display of an organized group working as one," said Cunningham. "The event combines fans of live performances, music lovers and Herd faithful for the last night of Homecoming '22."
Cunningham says there is something for everyone at the event this year.
"We have a couple of high-profile acts planned," said Cunningham. "Hip hop legend Mike Jones is performing, as well as Courtney Bee, a comedian from a widely successful improv show called Wild 'N Owt. In addition, our performing teams this year are all from different universities, which is unique and a testament to Marshall's homecoming allure."
Doors open at 8 p.m. and the show begins at 9 p.m. Tickets are $5 for students with a Marshall ID or $10 for general admission. They are available at the door.
Media are welcome and encouraged to attend.