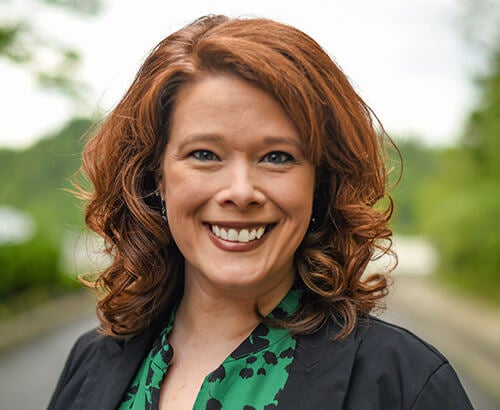 Marshall University Assistant Professor Kelly Young (pictured), of the communication disorders department and the Speech and Hearing Center, recently received LAMP (Language Acquisition through Motor Planning) certification from the Center for AAC [augmentative and alternative communication] and Autism.
Young began her work toward certification last spring and has since completed a 20+ hour, American Speech and Hearing Association-approved independent study that included video review of clinical skills and feedback from a LAMP-certified mentor. With the certification, Young becomes one of three LAMP-certified professionals in the state of West Virginia.
"Speech-language pathologists are lifelong learners," Young said. "Keeping up with new research and therapeutic techniques is a responsibility that allows us to provide the best client care possible."
LAMP is a therapeutic approach to promote independent communication by individuals who utilize speech-generating devices, using principles of motor learning. This approach is often used to give children with Autism and other developmental disabilities access to communication.
As one of three certified LAMP speech language pathologists in the state, Young brings a unique qualification to the MU Speech and Hearing Center, housed in the Department of Communication Disorders, located in Smith Hall on the Huntington campus. The center provides services for both children and adults, including screenings, evaluations, and treatment of communication and feeding disorders. All faculty members and clinical educators hold West Virginia licensure and are certified by the American Speech-Language-Hearing Association (ASHA).
"I am excited that the knowledge gained during this certification process will directly impact the clients I serve in the Marshall University Speech and Hearing Center, as well as the graduate students I teach and supervise," Young said.
Among the classes Young teaches is Communication Disorders 660, Augmentative and Alternative Communication (AAC), in which she'll incorporate LAMP techniques into the graduate-level study of diagnostic and therapeutic AAC procedures. For more information on the MU Speech and Hearing Center visit www.marshall.edu/mu-speech-and-hearing-center or Language Acquisition through Motor Planning, https://www.aacandautism.com/lamp.