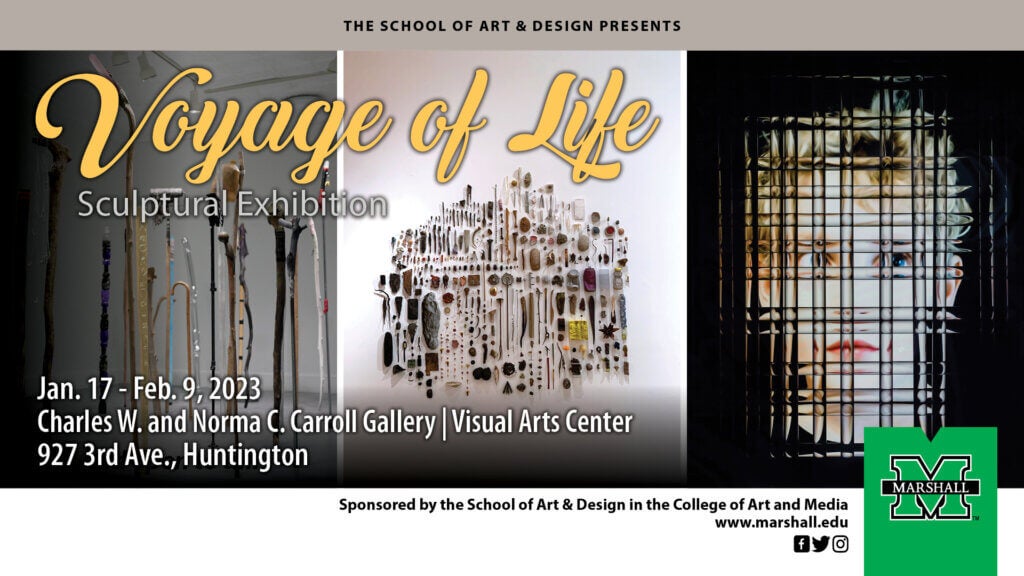 Marshall University's School of Art and Design will open a two-person sculpture exhibit, Voyage of Life, Tuesday, Jan. 17.
The Voyage of Life exhibit will be on view from 10 a.m. to 4 p.m. Jan. 17 through Feb. 9 in the Charles W. and Norma C. Carroll Gallery inside the Visual Arts Center, located at 927 3rd Ave. in downtown Huntington. There will be an artist talk for this exhibition from 5 to 6 p.m. Thursday, Feb. 9, with a reception following from 6 to 7:30 p.m.
The Voyage of Life combines the sculptural artwork of artists Christopher Mahonski and Eli Kessler.
"The installation includes a series of sculptures that focus on the tension between ecological and socio-cultural developments throughout time," Kessler said. "When combined, the works examine existence within a world of hyper-digital industrialization and ecological uncertainty by incorporating subject matter and materials from a timespan predating humanity to contemporary."
Processes such as metal fabrication, woodworking, casting, video, and digital fabrication techniques are combined with biological specimens and geological forms, further intermixing history and materiality. The exhibition includes four sculptural pieces by Mahonski and six works by Kessler.
Admission is free to the gallery and reception. Gallery hours are 10 a.m. to 4 p.m. Monday through Friday. Call 304-696-7299 for more information.
To learn more about Marshall's School of Art and Design, visit www.marshall.edu/art.