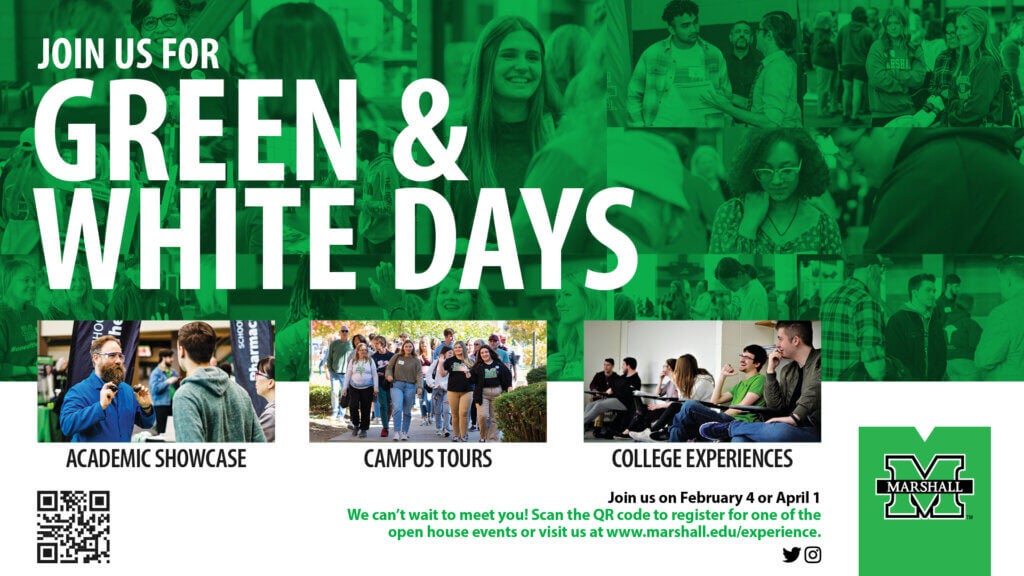 The Marshall University community will welcome high school juniors and seniors to Marshall's Huntington campus Saturday, Feb. 4, and Saturday, April 1, for Green and White Day open house events.
Each Green and White Day open house features a unique, interactive Academic Showcase, which provides students and their families with an all-access look at Marshall's academic programs in one place. Representatives of academic programs are on hand at the Marshall Recreation Center to provide in-depth information on what makes that program special.
Prospective students can also tour residence halls and learn about resources available on campus. Additionally, students can have lunch in one of the dining halls and take a guided tour of the campus.
"Green and White Day is an exciting opportunity for prospective students and their families to experience the energy and passion of the Marshall community," Dr. Avi Mukherjee, provost and senior vice president of academic affairs, said.
To close out Green and White Day, students can attend a College Experience session and learn about majors and what each college has to offer.
"We invite students to come and explore the many academic, extracurricular and social opportunities at Marshall University. Join us on Feb. 4 and April 1 to discover why the Thundering Herd is the perfect fit for you," Mukherjee said.
For more information on times and how to register for either the Feb. 4 or April 1 sessions, visit www.marshall.edu/experience. If prospective students are not able to attend the Green and White Days, they can also register for group and one-on-one tours, as well as financial aid counseling sessions.