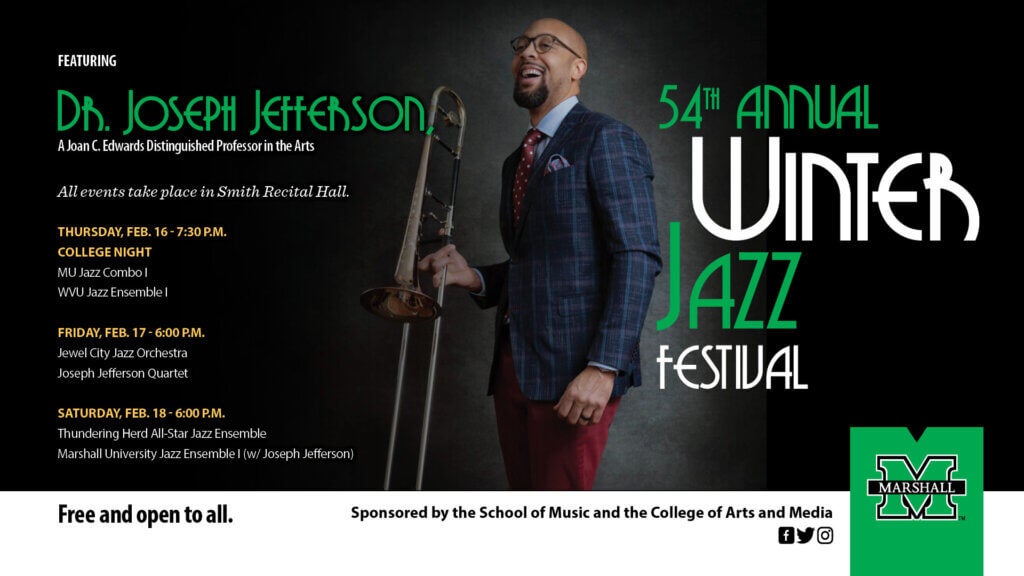 The Marshall University School of Music will present its 54th Annual Winter Jazz Festival Feb. 16-18 in Smith Recital Hall. The festival will feature local, regional and national jazz talent, including Dr. Joseph Jefferson, a Joan C. Edwards Distinguished Professor in the Arts.
Jefferson currently serves as associate professor of trombone/euphonium and director of jazz studies at Southeast Missouri State University. At the 13th Annual Jazz Education Network Conference, Jefferson received the 2022 Ellis Marsalis Jr. Jazz Educator of the Year award. He also has close ties to the Mountain State as a graduate of West Virginia University.
"We're honored and thrilled to have such a wonderful artist/educator for the 54th MU Winter Jazz Festival," said Jeff Wolfe, MU's director of jazz studies. "Audiences won't want to miss hearing Joseph's performances during the festival, but in my opinion, more importantly, all of our current MU music students and area high school and middle school students will greatly benefit from Dr. Jefferson's work as a clinician, educator, and role-model throughout the duration of the festival."
The festival kicks off at 7:30 p.m. Thursday, Feb. 16, with College Night, featuring the MU Jazz Combo I and the WVU Jazz Ensemble I. At 6 p.m. on Friday, Feb. 17, the Jewel City Jazz Orchestra performs, followed by the Joseph Jefferson Quartet.
The festival closes on Saturday, Feb. 18. Performances begin at 6 p.m. with the Thundering Herd All-Star Jazz Ensemble, a collection of some of the area's most talented aspiring high school jazz students, followed by the Marshall University Jazz Ensemble I, featuring Jefferson.
The festival also includes performances by regional high school and middle school jazz ensembles beginning at 9:30 a.m. on Friday, Feb. 17 and continuing throughout the day and resuming Saturday, Feb. 18 at 9:30 a.m. Please visit www.marshall.edu/music/jazz for the latest MU Jazz Festival schedule. All performances are free and open to all, with sponsorship from the School of Music in the College of Arts and Media.
For more information about Marshall University's Jazz Studies Program, visit www.marshall.edu/music/jazz/.