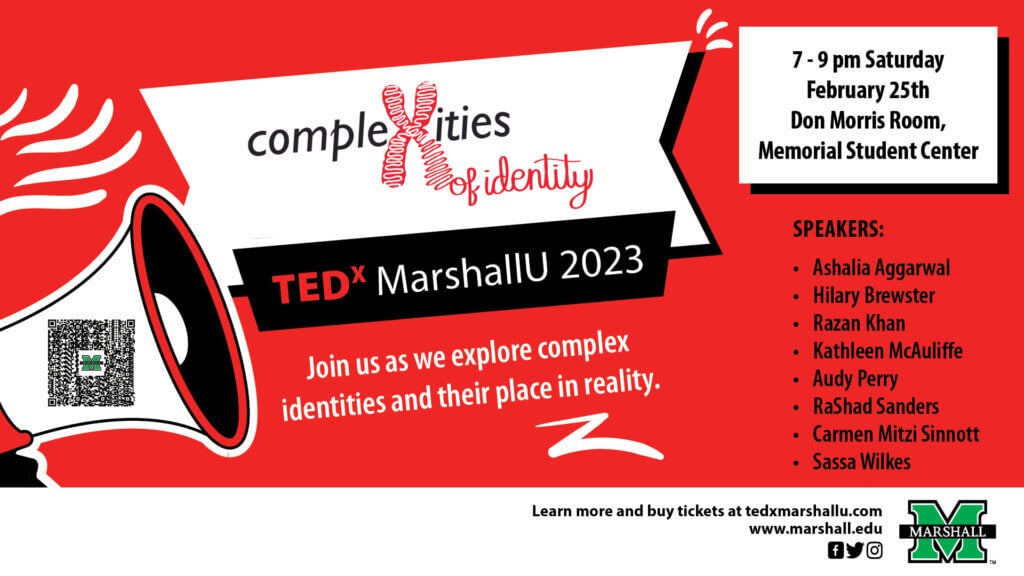 Marshall University will host its 5th annual TEDxMarshallU event organized by students, faculty, and staff from 7 to 9 p.m. Saturday, Feb. 25, in the Don Morris Room of the Memorial Student Center. The theme for this year's event is "Complexities of Identity," which will explore the reality that every person has many intersecting identities. The goal for this event is to offer the audience an opportunity to hear, learn from, and hopefully identify with others who may be different from them. One goal is to help break down barriers faced by disproportionately disadvantaged people from underserved populations and promote goodwill and connections by inspiring introspection, outreach, and community engagement.
This year the TEDxMarshallU event is being organized in alignment with the university's current accreditation quality initiative with the Higher Learning Commission: Building a Stronger and More Inclusive Marshall Community. Referring to this partnership, Dr. Mary Beth Reynolds, associate provost for assessment and quality initiatives, stated, "during this academic year, we are reflecting on the theme Complexities of Identity and we thank TEDxMarshallU for joining in this reflection."
Honors College Dean Dr. Brian Hoey says he is excited that the Honors College, which has financially supported TEDxMarshallU since its inception, has now fully integrated TEDxMarshallU into the college as a new experiential learning internship for student organizers. He said, "We value the unique insights that this event brings to the critical subjects that inform its theme each year. The outstanding student-interns working with Dr. Brian Kinghorn, one of our inaugural Honors Faculty Fellows, are acquiring essential professional skills and earning academic credit for their work. We are all winners in this truly productive collaboration."
Hoey added, "TEDxMarshallU has become one of the signature events in the Huntington community. I am proud to play a part to make it happen."
TEDxMarshallU's lead organizer and licensee, Dr. Brian Kinghorn, an associate professor in Marshall's College of Education and Professional Development, is excited to be organizing his fifth TEDxMarshallU event. "Each year we wonder how we will find a comparable theme, team, and lineup of speakers after our successful previous events," he said "but each year we manage to go bigger and better. I'm thrilled to be working in the Honors College with a phenomenal team of mostly students to produce another world-class event this year."
Darshan Sangani, a student co-organizer and this year's event coordinator, is anxious to share the event with the Marshall student body and the greater Huntington community. "I am so excited to share our TEDx event this year" he said. "I strongly believe we have curated a list of brilliant speakers whose ideas and associated stories will profoundly resonate with our audience. By the end, we hope to give our audience the tools and strength to explore their own identities and empower themselves in our complex reality."
This year's speakers include the following:
Ashalia Aggrawal is a first-year medical student at Marshall University's Joan C Edwards School of Medicine and founder of The Giving Palm.
Audy M. Perry Jr. serves as executive director of the Heritage Farm Foundation which operates West Virginia's first Smithsonian Affiliate, the Heritage Farm Museum & Village in Huntington.
Dr. Hilary Brewster (she/hers) is an associate professor of English and the director of Women's, Gender, and Sexuality Studies at Marshall University.
Kathleen McAuliffe is the author of the book This Is Your Brain on Parasites: How Tiny Creatures Manipulate Our Behavior and Shape Society (Houghton Mifflin), a bestseller in parasitology and microbiology.
Carmen Mitzi Sinnott is a speaker-performer-community leader who ignites change in communities through her own art and the art created by those who work with her through the initiatives of her company All Here Together Productions.
Rashad Sanders is a Marshall alum and currently serves as the executive director of the Fairfield Community Development Corporation.
Dr. Razan Khan is a Toronto-based pharmacist, consultant, educator, author and Marshall alum with a passion for education, writing, and telling stories.
Sassa Wilkes is a trans artist working to challenge and expand the cultural understanding of gender in Appalachia. Wilkes currently serves as the first visual artist-in-residence at West Edge Factory in Huntington, West Virginia.
Tickets will be $15 for general admission and $5 for current Marshall University or K-12 students. Children under 8 years old will not be permitted at the event. Visit www.tedxmarshallu.com to learn more about the event and purchase tickets.
Media representatives are invited to attend and cover the event. Per TED guidelines, no outside photography or videotaping is allowed during the event, including from members of the press. Selections of the official media along with guidelines for their use will be made available to the press soon after the event. Direct queries or requests for press passes to the event can be directed to Dr. Brian Kinghorn by e-mail at kinghorn@marshall.edu or by calling 517-974-4996.
Additional information about the event can be found at www.tedxmarshallu.com. TEDxMarshallU is also on Twitter,Instagram, and Facebook.
About TEDx, x = independently organized event
In the spirit of ideas worth spreading, TEDx is a program of local, self-organized events that bring people together to share a TED-like experience. At a TEDx event, TED Talks video and live speakers combine to spark deep discussion and connection. These local, self-organized events are branded TEDx, where x = independently organized TED event. The TED Conference provides general guidance for the TEDx program, but individual TEDx events are self-organized. (Subject to certain rules and regulations.)
About TED
TED is a nonprofit organization devoted to Ideas Worth Spreading, often in the form of short talks delivered by leading thinkers and doers. Many of these talks are given at TED Conferences, intimate TED Salons and thousands of independently organized TEDx events around the world. Videos of these talks are made available, free, on TED.com and other platforms. Audio versions of TED Talks are published to TED Talks Daily, available on all podcast platforms.
TED's open and free initiatives for spreading ideas include TED.com, where new TED Talk videos are posted daily;TEDx, which licenses thousands of individuals and groups to host local, self-organized TED-style events around the world; the TED Fellows program, which selects innovators from around the globe to amplify the impact of their remarkable projects and activities; The Audacious Project, which surfaces and funds critical ideas that have the potential to impact millions of lives; TED Translators Program, which crowdsources the subtitling of TED Talks so that big ideas can spread across languages and borders; and the educational initiative TED-Ed. TED also offers TED@Work a program that reimagines TED Talks for workplace learning. TED also has a growing library of original podcasts, including The TED Interview with Chris Anderson, WorkLife with Adam Grant, Far Flung with Saleem Reshamwala and How to Be a Better Human.