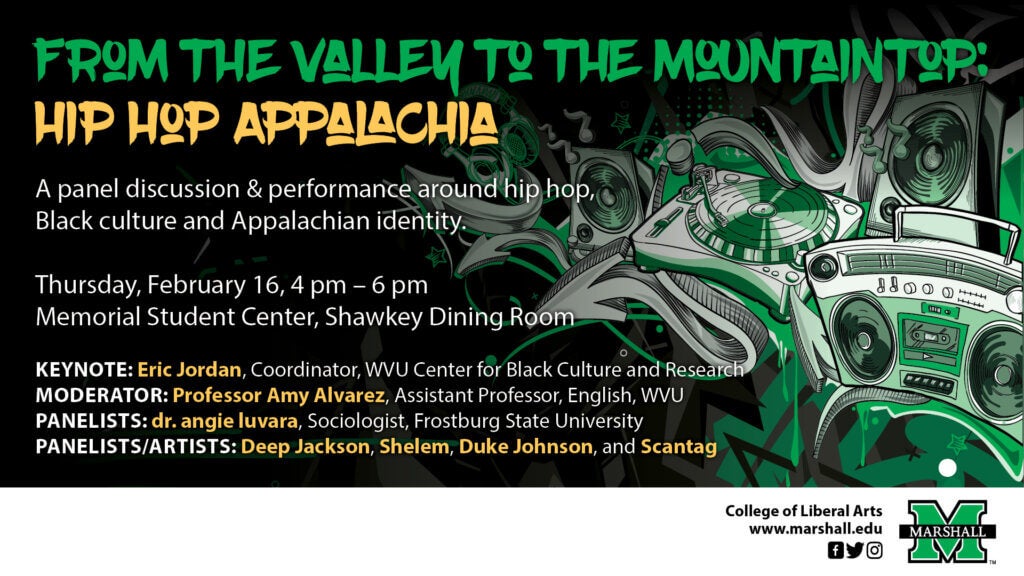 "From the Valley to the Mountaintop: Hip Hop in Appalachia" will examine hip hop music, black culture and Appalachian identity in a panel discussion Thursday, Feb. 16, from 4 to 6 p.m.  The discussion will take place in the Shawkey Dining Room of the Memorial Student Center on Marshall University's Huntington campus.
The two-hour session will explore the popular, although sometimes not well known, hip hop culture in Appalachia and how it not only exists but is thriving. The keynote address will be delivered by Eric Jordan, Coordinator of the West Virginia University Center for Black Culture and Research.
Jordan is a native of Cleveland, Ohio, but was raised in Ansted and Morgantown, West Virginia. He has been performing since the age of 7, then as a percussionist during his father's poetry performances, and later as an actor in his father's plays. Upon graduation in 1991, Jordan performed as a musician, releasing two albums and becoming head music director at Fat Head Records, and worked with many top recording artists in the hip hop genre. In 2000 he returned to Morgantown, where he and his brother, Lionel, started the group 304 Reconz, and the independent record label Soundvizion Recordingz.
"We are delighted to have Mr. Jordan as our keynote speaker. Not only is he an accomplished hip hop musician, performer, and producer, he is a native son who is deeply steeped in Black Appalachia and hip hop culture," said Dr. Cicero Fain, assistant provost of inclusive excellence and diversity, equity and inclusion fellow at Marshall. "I am excited over the opportunity to bring Appalachian-based scholars and local artists together to not only perform but to discuss the historical, cultural, and global impact of hip hop on the 50th anniversary of its birth."
Dr. Amy Alvarez, an associate professor of English at WVU, will moderate the panel discussion that includes:
Dr. Angie Luvara, sociologist, Frostburg State University;
Deep Jackson, a native of Welch, West Virginia, and veteran of the state's hip hop scene;
Duke Johnson, a native of Huntington and producer, and performer in the music scene for three decades;
Scantag, a native of Huntington, and performer;
Shelem, a native of Charleston, Marshall graduate, a producer, performer and civil engineer.
Fain says the group offers an in-depth look at hip hop music, Black culture and how those work in Appalachia.
"This panel will serve as a platform to showcase local artists, discuss culturally based responses and entrepreneurial strategies used by Black Appalachian musicians and producers as well as examine some of the challenges encountered in that process," Fain said.
For more information on the discussion, contact Fain at fainc@marshall.edu