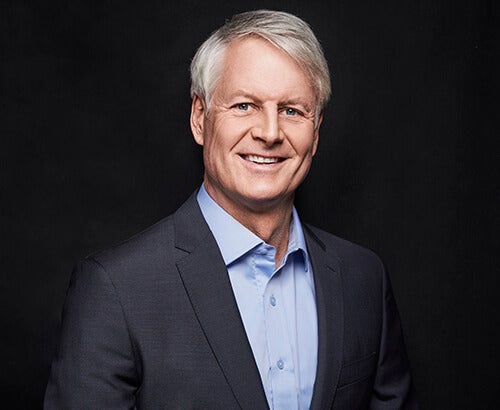 NIKE, Inc. President and Chief Executive Officer John Donahoe, a longtime leader in the global business world, has been selected as the keynote speaker for Marshall University's Spring 2023 Commencement.
Marshall President Brad D. Smith made the announcement today, Tuesday, March 14.
"John is truly a titan of industry – a visionary who understands what it means to bring purpose to life," Smith said. "His business acumen is top tier, and his daily actions at Nike show he genuinely cares for people, the planet and community success."
Donahoe is a graduate of Dartmouth College and the Stanford Graduate School of Business.  He started his career at Bain & Company before becoming the firm's president and CEO in 1999. Later, Donahoe led ServiceNow and eBay before being chosen to lead NIKE, Inc. in January 2020, having served on the company's board of directors since 2014. As CEO, he is responsible for the continued growth of NIKE's global business portfolio, which includes the Nike, Jordan and Converse brands.
Donahoe and his wife, Eileen Chamberlain Donahoe, executive director of the Global Digital Policy Incubator at Stanford University and former U.S. Ambassador to the United Nations Human Rights Council, have four children and five grandchildren.
Marshall University will celebrate spring graduation with two ceremonies on Saturday, April 29, at Mountain Health Arena, to comfortably accommodate graduates and their families. Donahoe will speak at both ceremonies, along the following schedules:
A 9 m. ceremony for undergraduate and graduate students in the following colleges: College of Business, College of Education and Professional Development, Doctor of Education, College of Science, College of Engineering and Computer Sciences, Doctor of Nursing Anesthesia Practice and Management, Biomedical Research and Pharmaceutical Sciences
A 2 p.m. ceremony for undergraduate and graduate students in the following colleges: College of Health Professions, College of Arts and Media, College of Liberal Arts, Regents Bachelor of Arts, and Doctor of Physical Therapy