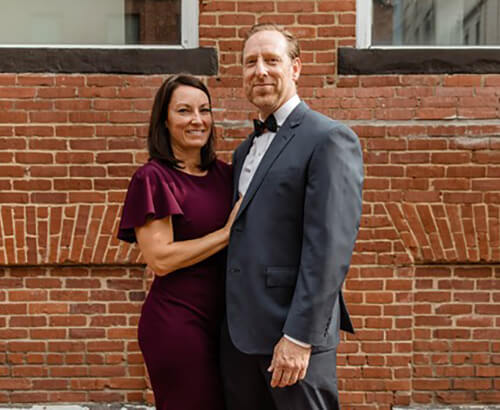 Marshall University alumni Patrick A. Stone, M.D., and Cynthia E. Coleman, MSN-FNP, know the determination it takes to achieve your dreams amid the curveballs life can throw. They have established a new scholarship at the Marshall University Joan C. Edwards School of Medicine dedicated to students with demonstrated financial need.
Stone was president of his class when he graduated from Marshall's medical school in 1999. He lost his mother as a young child, sparking his interest in medicine. He now serves as a professor and vice chair of operations for the vascular surgery department at Vanderbilt University in Nashville, Tennessee.
As a teenage mother, Coleman was determined to achieve. Her love for patients has been evident throughout her career and was passed down to her daughter, who now is a registered nurse. She is now the senior director of clinical services implementation at Edwards Lifesciences in Nashville.
Both Stone and Coleman were raised by hardworking parents with limited exposure to health care and are proud graduates of Marshall University. This pride drives them to help others looking to impact health care in West Virginia.
"Growing up in West Virginia, we both dreamed of the endless opportunities careers in health care represented," they said. "We were both determined to achieve more than our circumstances. It is exciting to be at a place in our careers where we can see the fruits of those labors and to create a scholarship for future medical students who are dedicated to improving health care in West Virginia."
The Dr. Patrick A. Stone and Cynthia E. Coleman Scholarship provides a financial pathway for first-year medical students in West Virginia with an annual household income of less than $100,000. The scholarship is renewable for three additional years pending normal academic progress.
For more information or to make a gift to the Joan C. Edwards School of Medicine, please contact Linda Holmes, director of development and alumni affairs, by phone at 304-691-1711 or by e-mail at holmes@marshall.edu. For news and information about the Joan C. Edwards School of Medicine, follow us on Twitter @MUSOMWV, like us on Facebook, or visit jcesom.marshall.edu.