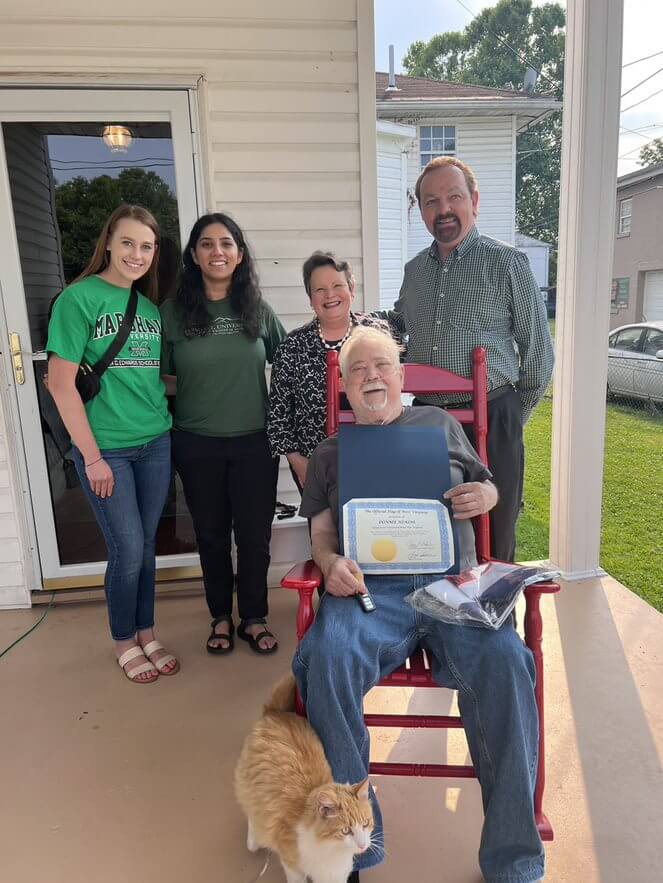 Medical students at the Marshall University Joan C. Edwards School of Medicine are working through the DreamCatchers Foundation to fulfill the end-of-life wishes of terminally ill patients in partnership with Hospice of Huntington. By establishing a new chapter of DreamCatchers within the medical school, medical students at Marshall will gain valuable insights into compassionate care and support for those facing life-limiting illnesses.
"Empathy is a cornerstone of our training here at Marshall," said Pooja Warrier, fourth-year medical student and president of the new DreamCatchers chapter. Through this partnership with the DreamCatchers Foundation and Hospice of Huntington, we hope to fulfill the meaningful dreams and aspirations of patients, allowing them to find solace and happiness during their final days."
The DreamCatchers Foundation, established in 2005, has been an instrumental force in fulfilling dreams ranging from simple wishes like reuniting with loved ones to more elaborate dreams like traveling to a cherished destination. The new Marshall chapter was officially chartered earlier this month and has already fulfilled its first dream. Donnie Adkins of Huntington, a veteran in hospice care, requested a flagpole in his front yard to represent those in his family who served the country. Veteran volunteers from American Legion Post 93 helped install the flagpole, and Sen. Michael A. Woelfel (D-Cabell) arranged for Adkins to receive a West Virginia flag that had been flown over the State Capitol.
"It was such an honor to be part of Donnie's dream, hearing his story and celebrating this precious moment with him and his family," Warrier said. "Looking ahead, it takes an entire community to make these dreams possible. Our chapter will partner with the local Hospice team and area businesses and organizations to help achieve the dreams of those in our community.
"Hospice of Huntington is pleased to partner with Marshall University to establish this new chapter," said Melanie Hall, president and CEO of Hospice of Huntington. "We believe this chapter will bring much joy and fulfill many dreams for those individuals in hospice care. Likewise, DreamCatchers provides an opportunity for health science students to interact with patients and families in a very meaningful way."
By participating in the DreamCatchers program, these aspiring medical professionals will be better equipped to understand the emotional and psychological needs of their future patients, fostering a more empathetic and holistic approach to care.
For more information or to request a dream, contact the local DreamCatchers chapter by e-mail at dreamcatchers2022-23@groups.marshall.edu.
###
Photo: Representatives of Marshall University's chapter of the DreamCatchers Foundation fulfilled its first dream by installing a flagpole for Donnie Adkins of Huntington.
Recent Releases