Nikki Dudley, a clinical supervisor at the Marshall University Speech and Hearing Center (MUSHC), was recently named a certified brain injury specialist by the Brain Injury Association of America. Dudley also works at Caring Moore Homes, a brain injury community reentry program in Ashland, Kentucky.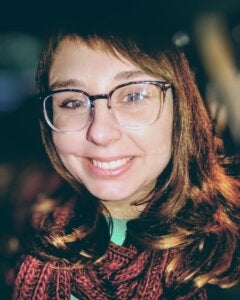 Dudley leads the social language groups at the Marshall Speech and Hearing Center for ages 10 to 22 years old and facilitates a newsletter for brain injury survivors associated with Caring Moore Homes. In order for Dudley to become a certified brain injury specialist, she had to verify that she's worked directly for 500 hours with clients who have suffered an acquired brain injury from events such as a stroke, car accident, drug overdose or aneurysm.
"As a certified brain injury specialist I feel a sense of duty to train my students, the community and those close to me on the effects of a brain injury," Dudley said. "It is not just a wound that can be stitched up or an ailment to be cured from. It's chronic and lifelong for the person carrying it around."
Beyond the required 500 hours, Dudley worked for a year on gaining more knowledge on brain injuries. She studied diagnostic imaging, concussions, mild traumatic brain injuries, cultural and sexuality issues, military populations, neuropsychology, case management and return-to-work situations.
"I feel like having these credentials offers more validity to how I diagnose and treat my clients," Dudley said. "It also allows me to consult with colleagues in other fields such as neurology, OT [occupational therapy], PT [physical therapy] and counseling to better serve the whole client."
In the past Dudley has consistently accepted graduate students for externships at Caring Moore Homes.
Pam Holland is the Communication Disorders department chair and graduate program director at Marshall.
"Nikki is an asset to the department, Marshall University, and the community at large," Holland said. "She is a prime example for the university's new slogan, Marshall For All, Marshall Forever. As an alumna, she has continued to grow and expand her knowledge in the field and willingly shares that with our students. She has always implemented functional therapy practices to assist those with brain injury. One example can be found in her article, 'Got (Treatment) Game? Using board games in treatment for people with traumatic brain injury can help with cognitive-linguistic skills and self-awareness.'"
To read the article, visit https://leader.pubs.asha.org/doi/10.1044/leader.hytt.21122016.42. For more information on the brain injury specialist program, visit www.biausa.org. For more on the Marshall Speech and Hearing Center visit https://www.marshall.edu/mu-speech-and-hearing-center/.
Recent Releases