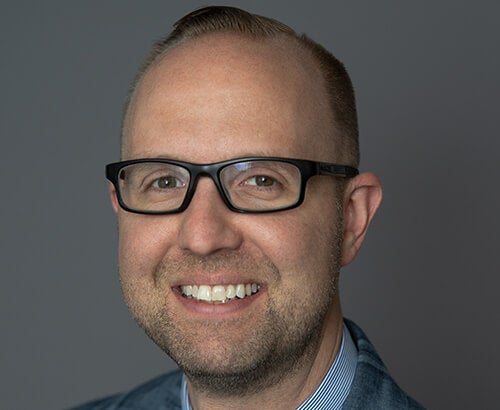 Marshall University's Dr. Josh Brunty, a faculty member in Cyber Forensics & Security, has been named head coach of the US Cyber Team, a team of talented cybersecurity athletes, coaches, and industry leaders put together by the US Cyber Games to represent the United States in global cybersecurity competitions.
As head coach for the 2024 competition season, Brunty will draft the most talented cybersecurity experts in the country and serve as a mentor on their journey. This team will represent the United States in international competitions such as the International Cybersecurity Championships (ICC) and European Cybersecurity Championships (ECSC).
Brunty is an associate professor and director of the Cyber Forensics & Security graduate program in the School of Forensic & Criminal Justice Sciences. He joined Marshall in 2012 and before that, worked seven years as a digital forensics examiner, technical leader and technical assessor for both the state and federal government sectors. He is a recipient of the 2019-2020 Marshall and Shirley Reynolds Outstanding Faculty Award and the 2019-2020 John and Frances Rucker Outstanding Graduate Advisor Award.
He has served on boards and in offices for many organizations, including those for Forensic Science International; Digital Investigation; the Journal of Forensic Sciences; the National Institute of Standards and Technology (NIST) Organization of Scientific Area Committee (OSAC) on Digital Evidence; the Forensic Science Education Programs Accreditation Commission; and the Mid-Atlantic Association of the High Technology Crime Investigation Association (HTCIA).
"We are excited to announce the appointment of Dr. Joshua Brunty, professor of Digital Forensics & Cybersecurity at Marshall University, as head coach of the Season III, US Cyber Team," said Jessica Gulick, Katzcy CEO and commissioner of the US Cyber Games. "Dr. Brunty has a noteworthy background from both a practitioner and academic perspective, has coached and played in collegiate and federal/professional cyber competitions, and brings a unique blend of experience that will surely benefit the student-athletes in their training and skills building."
Since 2013, Brunty has served as faculty advisor and coach of Marshall's successful Collegiate Cyber Defense Competition Team. During his tenure, Marshall's team has taken top honors in a variety of cybersecurity competitions, including a first-place national championship finish in the National Cyber League in the spring of 2020, and four straight top-10 finishes in its fall and spring competitions between 2018 and 2020. He has also served as a past mentor for various high school teams for the Air Force Association's CyberPatriot Competition.
"Josh's selection as head coach is a testament both to his commitment to mentoring the next generation of cyber-scientists and to the quality of our faculty in the great cyber forensic program he comes from," said Dr. Wesley Stites, dean of Marshall's College of Science. "They don't pick people for this position at random. I am sure that as his team represents the United States in competition against other countries, he'll do Marshall proud."
In his new position, Brunty and his staff, which includes assistant coaches and technical mentors, "will help guide athletes' training and progress through a series of increasingly difficult activities in which the athletes will learn both offensive and defensive tactical concepts which are reinforced in individual exercises," Brunty said.
He hopes the position shines a light on the excellence of Marshall's cyber programs.
"The exposure of being head coach will provide visibility and access to highly talented students who might be considering studying cybersecurity or digital forensics at the collegiate level," Brunty said, adding that current Marshall students may benefit as well. "The tactics that I will learn as part of the national team will help me be a better coach and mentor to Marshall's Collegiate Cyber Team. Additionally, I will also be able to help onboard hopeful competitors into the US Cyber Team's Pipeline Program, which will help prepare and train them for future selection on the U.S. National Team.
US Cyber Games hosts its own competitions, including its US Cyber Open in June, which is open to all students. Top performers compete in the US Cyber Combine, an invitation-only series of competitions in June through October and includes selection of the 30-person US Cyber Team.
"Josh is an absolute perfect fit for the coach of the US Cyber Team," said John Sammons, associate director for Marshall's Institute for Cyber Security. "He's had such a long track record of success with our own cyber competition team, it's no surprise he was selected for this incredible honor. Josh brings the same traits and characteristics to cyber competition that other successful coaches bring to football, baseball, etc. He's technically very competent, relates to his players, can motivate them, gets them to grow and can get them to function as a team. He's the same in the classroom, and his success there has been recognized as well.
"Marshall is lucky to have someone like Josh," Sammons added. "He's a big part of our overall success in cyber security and cyber forensics. The fact that he's a homegrown talent from West Virginia and a Marshall alum is icing on the cake."
For more information about cyber offerings at Marshall, visit www.marshall.edu. For more information about the US Cyber Team, visit www.uscybergames.com.