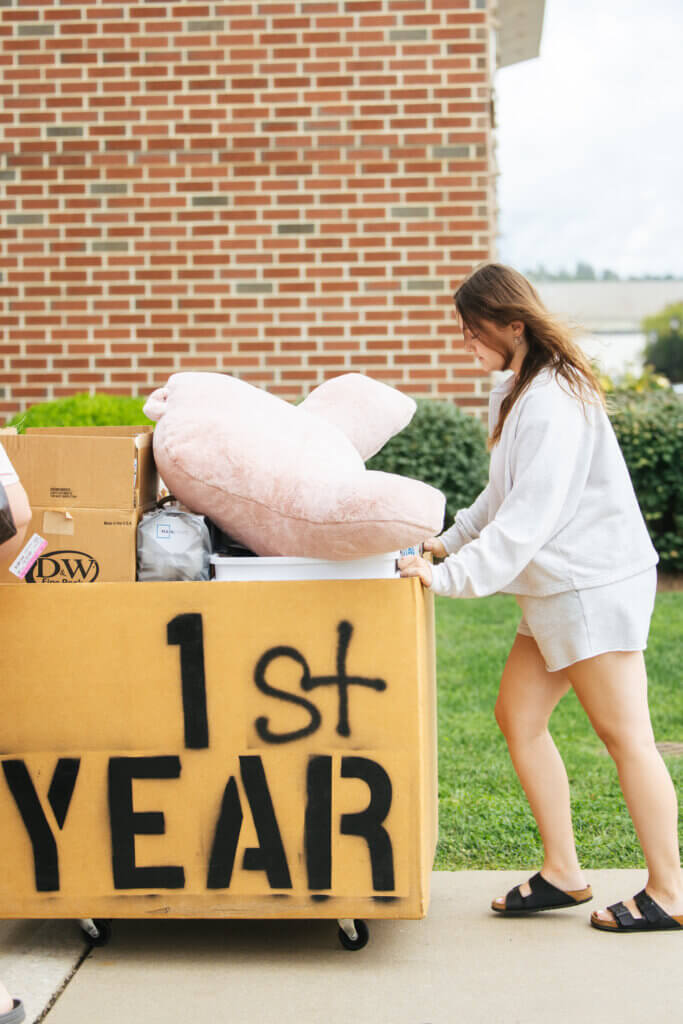 Marshall University's annual Week of Welcome (WOW) is underway, with a full schedule of events and activities to welcome hundreds of new students into the Marshall family before the fall semester begins on Mon., Aug. 21.
This year, more than than 1,800 first-year students are registered for Week of Welcome events on and off campus. The week's activities are focused on making students feel at home on Marshall's Huntington campus and a part of the Marshall family.
"Attending Marshall's Week of Welcome is more than just an introduction to campus life," said Marcie Simms, Vice President of Intercultural and Student Affairs. "WOW helps students feel more at home in their new academic environment, provides them with essential information and tools and sets the stage for a successful and fulfilling college experience."
WOW check-in and residence hall move-in for freshmen began on Tuesday, Aug. 16 and continues through Wednesday, Aug. 17 at 6 p.m. Student events began on Tuesday with a block party at the Marshall Recreation Center, followed by a late-night breakfast and bingo event at Harless Dining Hall.
Activities on Wednesdsay afternoon include an Amazing Race style WOW Challenge and an ROTC obstacle course in the afternoon, followed by WOW Kick-Off: First Year Student to First Year Success at 8 p.m. in the rec center.
On Thursday, Aug. 17, students will take part in several programs on campus, including We Are Family: A Culture Diversity Experience, Speak UP and Speak Out, The Rock Star Project and college sessions for their individual paths of study. At 7 p.m., students have the opportunity to attend a Marshall Men's Soccer Game at Hoops Family Field, followed by a showing of We Are Marshall on Harless Field outside of Harless Dining Hall along 5th Ave.
On Friday, Aug. 18, students will begin their first class at Marshall, UNI 100. "Freshman First Class," is an introduction to the academic structures and expectations of college life. Those who successfully complete the course will earn one hour of elective credit. Immediately following their first UNI class, the Class of 2027 will celebrate the beginning of their Marshall journey with a class photo around the John Marshall statue on campus, followed by Freshman Convocation at the historic Keith-Albee Theatre downtown. A portion of Fourth Avenue in Huntington will be closed between campus and the theatre while students walk united to and from convocation.
On Friday afternoon, students will have the opportunity to "Find Their Herd" as nearly two dozen different gatherings are scheduled around campus to allow students to meet others who share similar interests. At 8 p.m., students are invited to Night at the Joan, where they will take part in a pep rally at Joan C. Edwards Stadium, learn cheers  with coaches, the marching band, cheerleaders and dance team and pose for the Class of 2027 "M" photo on the field.
"It's the first step in joining the Marshall family," said Simms. "Embracing this week of connections, new students forge bonds that will carry them through their academic journey, becoming integral threads in the fabric of our university's history and spirit.
Week of Welcome continues through the weekend with a full slate of events. On Saturday, Aug. 19, the 14th Annual RecFest begins at the rec center at noon.  The annual event allows Marshall students and the Huntington community to see what local businesses and other Marshall depargtments have to offer.  The event has more than 80 vendors.
Following Recfest, there are side-by-side events-Party at the Library at Drinko Library and Fun Factory on the Memorial Student Center Plaza at 6 p.m., then Midnight Marshall Madness from 8 p.m. – midnight in the MSC.
On Sunday, Aug. 20, students are invited to take part in a quoits tournament on Buskirk Field and a soccer tournament at the rec center in the afternoon, followed by the WOW Luau on Harless Field at 5 p.m.
Fall 2023 classes begin on Mon., Aug. 21.
Here is a brief look at some of the events scheduled on the Huntington campus during Marshall's Week of Welcome. To view a complete schedule of WOW activities, visit: https://www.marshall.edu/wow/. To view video and  soundbites from move-in, visit https://bit.ly/WOW2023MoveIn.
Tuesday, Aug. 15
8 a.m. – 6 p.m. – Freshmen Move-In, Campus residence halls
10 a.m. to 6 p.m. – WOW Check-In, Memorial Student Center
7 p.m. – Block Party, MU Recreation Center
Wednesday, Aug. 16

8 a.m. – 6 p.m. – Freshmen Move-In, Campus residence halls
10 a.m. to 7:30 p.m. – WOW Check-In, Memorial Student Center
1 to 4 p.m. – WOW Challenge, Campuswide
1 to 4 p.m. – ROTC Obstacle Course, outside of Gullickson Hall
8 to 10 p.m. – WOW Kick Off: First Year Student to First Year Success, MU Rec Center
Thursday, Aug. 17

9 a.m., 10:30 a.m., 2:45 p.m., 4:15 p.m. – Student block scheduling
7:15 p.m. – Marshall Men's Soccer, Hoops Family Field
9 – 10:30 p.m. – We Are Marshall outdoor movie, Harless Field
Friday, Aug. 18

10:30 a.m. – Freshmen Class Photo, John Marshall statue on campus
11 a.m. – Walk to Freshman Convocation, Downtown Huntington
11:30 a.m. – Freshmen Convocation, Keith-Albee Theatre
1 – 2:30 p.m. – Cookout, Harless Dining Hall
7:45 – 9 p.m. – Night at the Joan, Joan C. Edwards Stadium
Saturday, Aug. 19
12 – 3 p.m. – RecFest, MU Recreation Center
6 – 8 p.m. – Party at the Library, Drinko Library
6 – 8 p.m. – Fun Factory, Memorial Student Center Plaza
8 p.m. – 12 a.m. – Midnight Marshall Madness, Memorial Student Center
Sunday, Aug. 20
12 p.m. – Quoits Tournament, Buskirk Field
2 – 4 p.m. – 3v3 Soccer Tournament, MU Recreation Center Turf Field
5 – 7 p.m. – WOW Luau, Harless Field