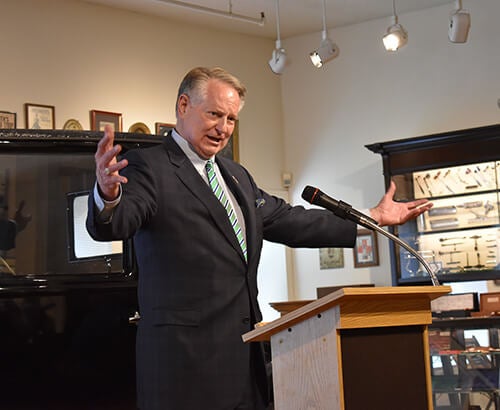 Marshall Health and Marshall University's Joan C. Edwards School of Medicine hosted yesterday the Appalachian Regional Commission's Recovery-to-Work Cohort Learning Academy at the Touma Museum of Medicine.
In the Recovery-to-Work Cohort Learning Academy, regional teams convene with subject matter expertise and facilitation support to develop plans aimed at addressing the substance use disorder (SUD) crisis across Appalachia. The team, composed of more than 30 recipients of ARC INSPIRE, WORK and POWER grants, met to discuss best practices in supporting individuals in recovery.
"The Recovery-to-Work Ecosystem Community of Practice is bringing together grantees from the Appalachian Regional Commission working on substance use disorder to discuss how they can better align community stakeholders and provide services to help people in recovery get and keep jobs," said Brendan Buff, director of rural development at the Center for Regional Economic Competitiveness. "We are thankful to Marshall Health, Mayor Williams, and Mountwest Community & Technical College for hosting our peer meeting and sharing the great work that is happening in Huntington."
Following a welcome from City of Huntington Mayor Steve Williams, experts from Marshall's Division of Addiction Sciences discussed the continuum of care for treatment of SUD. Ashley Shaw, director of Marshall Health's Creating Opportunities for Recovery Employment (CORE) program, moderated an employer panel discussion focused on return to work.
"CORE is honored to be a small component in helping individuals in recovery reintegrate into the community," Shaw said. "Employment provides structure, a sense of purpose and connection to community. Two CORE participants shared their recovery-to work stories with assistance from the larger support network. Takeaways from the event highlighted the power of community, collaboration, connection and coordination of care for individuals in recovery with substance use disorders."
Additionally, Tricia Ball, president and CEO of the Huntington Regional Chamber of Commerce, and Brandon Dennison, vice president of economic and workforce development at Marshall University, discussed job creation in the region.
###
Photo: Huntington Mayor Steve Williams welcomes attendees of the Recovery-to-Work Cohort Learning Academy Sept. 13.