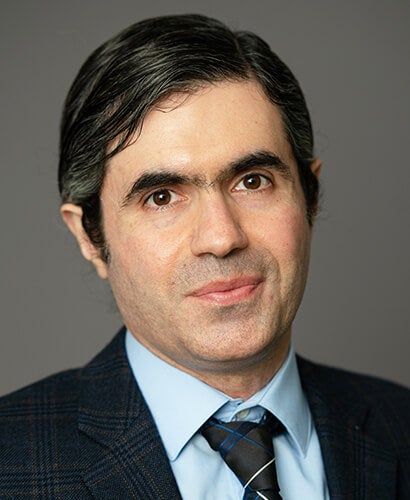 Marshall University has received a National Science Foundation (NSF) Track-4 Research Infrastructure Improvement (RII) grant of $293,493 along with a $60,000 supplement from the Established Program to Stimulate Competitive Research (EPSCoR), for a total of $353,493 for research related to printed electronics and device fabrication. It is one of 10 projects and $2.7 million invested by the NSF this month through EPSCoR, in collaboration with NASA. 
Dr. Ross Salary, an assistant professor of mechanical and biomedical engineering in Marshall's College of Engineering and Computer Sciences, is the principal investigator on the project,  "Investigation of Two-Phase Aerosol Formation, Transport, and Deposition in Aerosol Jet Printing for Submicron Manufacturing of Printed Electronic Devices." It aims to reduce the scientific barriers that limit direct-write additive manufacturing and will catalyze new manufacturing capabilities toward high-resolution semiconductor device fabrication.
"The semiconductor industry is a major economic driver, making up 10% of the nation's manufacturing sector," he said. "Semiconductor devices support a wide range of applications, such as fifth-generation (5G) communications, high-performance computing and local/remote sensing. There has been a need for high-resolution device fabrication to fulfill today's performance characteristics, such as low power consumption, fast switching speeds and increased computing power.
"Direct-write manufacturing methods have been utilized for fabrication of a broad spectrum of electronics, such as sensors, optoelectronic devices and fine-pitch electronics," he said. "However, despite recent technological developments and advances in formulation of novel functional materials, high-resolution fabrication of electronics has encountered serious challenges due largely to the intrinsic limitations and complexity behind the underlying physics of device fabrication. There is, therefore, a critical need to identify the link between the governing phenomena and the resolution of direct-write material deposition toward submicron fabrication of printed electronic devices beyond today's limits."
Salary says he hopes his research will help make those goals closer to reality while having significant broader impacts as well.
"This NSF award not only will strengthen Marshall University's research infrastructure, but also will lead to an enhancement in STEM education as well as workforce development toward further economic prosperity in the state of West Virginia," Salary said. "In addition, this award will make Marshall University one of the emerging pioneers of printed electronics and device fabrication research in the United States. Ultimately, this award will pave the way for our research to move toward transformative new directions."
Full-time undergraduate and graduate students will join the project in the future.
"They will have an opportunity to work [with me] on this project at the NASA Marshall Space Flight Center in Alabama," Salary said. "The students will learn how to design and conduct experiments with a focus on advanced manufacturing systems, analyze and interpret the results, and develop computational models."
For more information about Marshall's College of Engineering and Computer Sciences, visit www.marshall.edu/cecs.