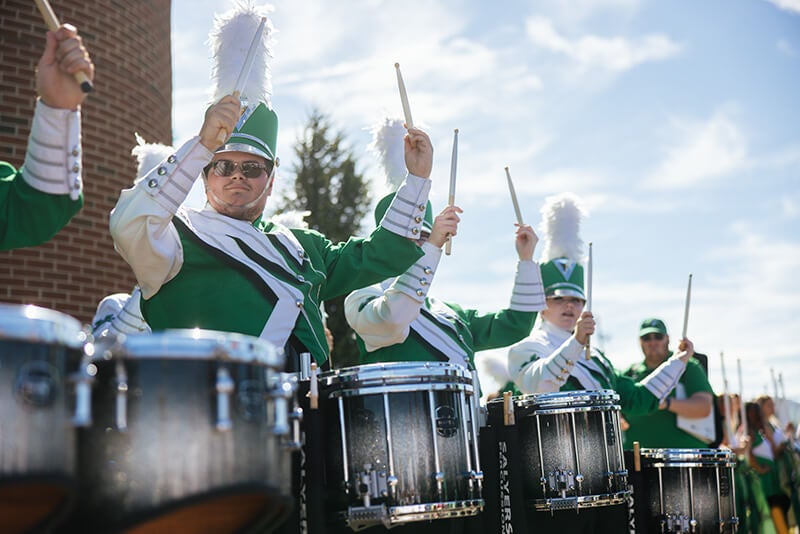 Marshall University will host 31 high school marching bands on Saturday, Oct. 28, for the annual Tri-State Marching Championships. The event begins at 11:30 a.m. at Joan C. Edwards Stadium and is presented by Marshall's School of Music and marching band, the Marching Thunder, in conjunction with its student band and service fraternity, Kappa Kappa Psi.
"Typically, this is a late season show, but this year, it seems to be the end-of-season show for most groups, making it a bit of a season grand finale. And the Joan is a great place to have this type of event," said Chris Schletter, director of athletic bands at Marshall. "Highlighting the marching arts is a great opportunity to get many, many students on campus."
The show begins at 11:30 a.m. and will conclude after the award ceremony at 9 p.m. The 31 high school bands that are participating include one band from Kentucky, three bands from Ohio, and 27 from West Virginia.
"Some are traveling over three hours to be here," Schletter said. "This is a great event because it highlights so many high schools in the area and you get to see some very creative marching band programs, telling some great stories on the field while playing some wonderful music. These are not your grandfather's marching bands! This event is open to the public and is a great experience for everyone."
Tickets can be purchased on-site at Gate A for $12, with kids 5 and under admitted for free. Programs highlighting each high school are $2 and can be purchased with a ticket or at the Kappa Kappa Psi table. Concession stands will be open.
"This is a great opportunity for Marshall because we are bringing nearly 1,500 students to campus, with their families, to enjoy our amazing facilities at an event where they get to display their hard work and dedication to the musical arts," Schletter said. "This is also an event at which their art is greatly appreciated. The Marching Thunder is made up of about 70% non-music majors, meaning the majority of the students in our own marching band do it because they love it.
"This means that the Marching Thunder is one of the largest, if not the largest, student organization to recruit at such a level," Schletter continued. "We brought 250 students to campus during Band Day in September, we'll have nearly 1,500 students here for the Tri-State Marching Championships, and we will host a high school honor band in February that will bring about 350 to 400 students to campus then as well. We don't simply recruit for the Marching Thunder — we are recruiting for Marshall University."
To learn more about music programs at Marshall University, visit www.marshall.edu/music and to learn more about Marshall's bands, visit www.marshall.edu./band.
Media Contact
Jean Hardiman
University Relations Specialist
University Marketing and Communications
Recent Releases