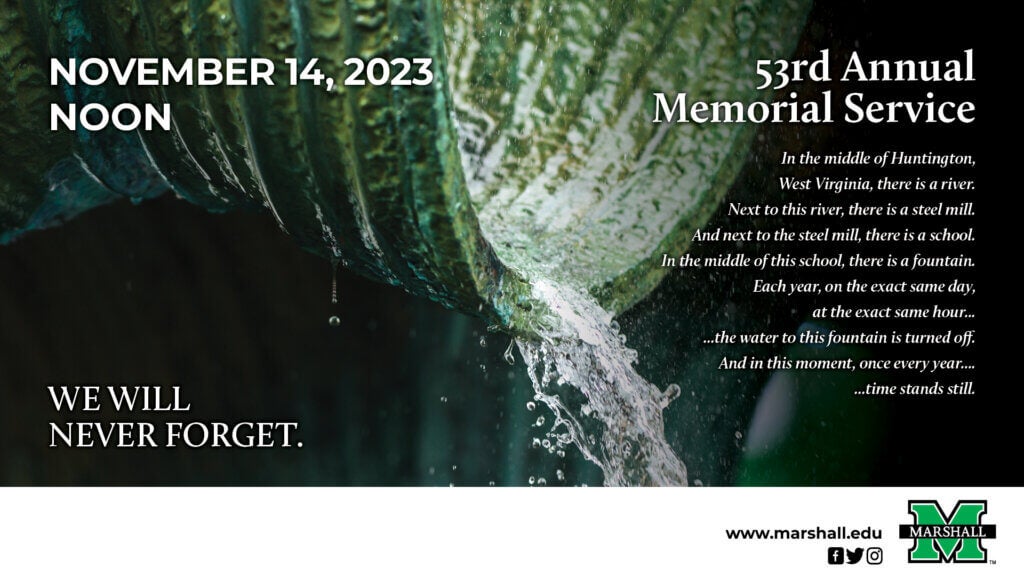 On a rainy night on Nov. 14, 1970, Southern Airways Flight 932 crashed into a hillside as it approached Tri-State Airport, carrying 75 Thundering Herd coaches, teammates, staff, supporters and flight crew members. Had Craig T. Greenlee not made the decision to walk away from the team the previous season, he would have likely been part of that devastating number. At the Memorial Fountain Ceremony on Marshall's Huntington campus on Tuesday, he will share his perspective on the accident and how he believes the tragedy brought the Huntington community together during a time when racial tensions were high.
"There's no question in my mind that the plane crash averted what could have been a bloody race riot at Marshall," said Greenlee. "The situation was just that volatile, but the crash was so shocking, any beef between blacks and whites became meaningless. The hurt and devastation was all-encompassing."
Just 13 months before the crash, Greenlee decided he would not be returning the next season.
"The passion, the drive and the hunger to compete and excel was no longer there. If you're going to be any good at football, you've got to be all in. If you're not, you're going to get laid out. It was time for me to place my total focus on school and get that degree."
While Greenlee was not an active member of the team in 1970, many of his friends on campus were those he made on the football field. The crash was a shocking blow in the heart of his junior year.
"The only things that mattered were finding ways to console one another and figure out what we would do about attending as many funerals as possible," said Greenlee. "Even now, a half century and few years later, the memories of Nov. 14, 1970 still resonate strongly. It still tugs at the heartstrings in a mighty way after all this time."
Greenlee says he did make a brief comeback after the crash to play during the spring of '71, mostly because he felt compelled to contribute in some way as a salute to his former teammates who perished in the crash.
"I even got my starting position back as a safety," said Greenlee. "But once preseason practice started with the Young Thundering Herd in August '71, I knew time had come for me to hang up the cleats for good. I turned in my gear and never looked back."
Still, every year on Nov. 14, his thoughts drift to those tough moments when the crash happened, shattering the campus and community.
"This is a shared experience that has absolutely nothing to do with race or gender," said Greenlee. "Just like we share the same air, we share the same sorrow and we share the same sense of wonderment and satisfaction in seeing how the football program has not only survived, but thrived."
In 2011, Greenlee published a book on the tragedy, titled "November Ever After: A memoir of tragedy and triumph in the wake of the 1970 Marshall football plane crash." He says he chose to write the book after watching "We Are Marshall" left him wishing for more of the true story of what happened, without any added Hollywood frills.
On Tuesday, he will share his perspective on what happened leading up to and after the crash and how the accident still resonates with so many people to this day.
Greenlee is semi-retired, residing in Winston-Salem, North Carolina, with his wife of 24 years, Cynthia. He also has five children and seven grandchildren.
Members of the public are invited to attend in person or view a livestream of the event. To view the livestream or for more information on the plane crash or Memorial Fountain Ceremony, visit www.marshall.edu/neverforget.
Media are invited and encouraged to attend.
Media Contact
Melanie Whitt
University Relations Specialist
Recent Releases