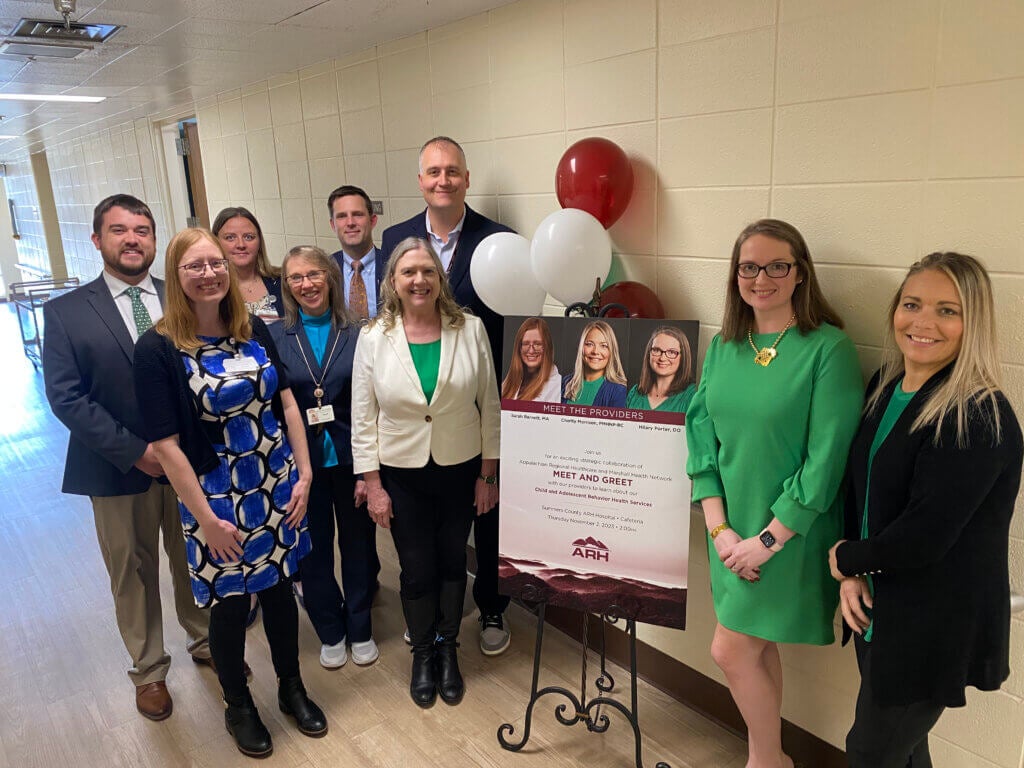 Child and adolescent behavioral telehealth services are now available in Hinton, W.Va., thanks to a new collaboration between Appalachian Regional Healthcare and Marshall Health Network.
Through the new relationship, experienced providers from Marshall Health offer mental health support for pediatric patients with diagnoses including depression, anxiety and attention-deficit/hyperactivity disorder.
On the days of their appointments, patients visit the Summers County ARH Rural Health Clinic, where they receive assistance connecting, via computer, with Charity Morrison, a psychiatric mental health nurse practitioner (PMHNP) with Marshall Health. In addition to conducting initial psychiatric evaluations and follow-up appointments, Morrison also prescribes and evaluates psychopharmacologic treatments alongside her collaborating psychiatrist, Hillary N. Porter, D.O.
Morrison earned undergraduate degrees from the St. Mary's School of Nursing in Huntington, West Virginia, and Capella University in Minneapolis, Minnesota. She received her graduate degree from Walden University in Minneapolis. Morrison is certified by the American Nurses Credentialing Center.
Porter is a board-certified child psychiatrist and associate professor at the Joan C. Edwards School of Medicine at Marshall University. She specializes in common pediatric and adolescent mental health disorders including ADHD, aggression, anxiety, autism and depression. She is a graduate of the West Virginia School of Osteopathic Medicine in Lewisburg and completed a pediatrics and psychiatry residency at the University of Kentucky.
Representatives from Marshall Health and ARH gathered in Summers County Thursday afternoon to celebrate the collaboration. "Access to behavioral health care is a critical need, particularly in Appalachia," said David Conley, ARH West Virginia Regional Clinic Administrator. "The partnership between the Marshall Health Network and Appalachian Regional Healthcare helps us meet that need and is just one example of our commitment to the Summers County community. Relationships build communities, and partnering to offer this service strengthens the relationship between our two health systems and opens the discussion for future opportunities for collaboration."
"While medicine measures growth milestones for children's physical health, behavioral health is equally important," stated Kevin Yingling, R.Ph., M.D., chief executive officer of Marshall Health Network. "I am encouraged by Marshall Health Network and Appalachian Regional Healthcare's collaboration to provide access to much-needed behavioral health services for the children of Summers County and surrounding areas. West Virginia is growing for future generations, and we're committed to supporting wellness and a full quality of life here at home."
Morrison is accepting new patients by referral. For more information, contact the Summers County ARH Rural Health Clinic at 304-466-2918.
———–
Photo: Representatives from Marshall Health and Appalachian Regional Healthcare gathered Thursday afternoon to celebrate a collaboration that brings child and adolescent behavioral telehealth services to Summers County, West Virginia.
About Marshall Health Network
Marshall Health Network, Inc. is a West Virginia-based not-for-profit academic health system that includes Marshall Health physician practice; four hospitals: Cabell Huntington Hospital, a 303-bed teaching hospital, St. Mary's Medical Center, a 393-bed teaching hospital, Hoops Family Children's Hospital, a 72-bed pediatric specialty hospital within Cabell Huntington Hospital; and Rivers Health, a 101 acute-bed hospital, and the employed physician practices of the hospitals. Cabell Huntington Hospital is a teaching hospital for the Marshall University Schools of Medicine, Pharmacy and Nursing, while St. Mary's Medical Center operates St. Mary's Schools of Nursing, Respiratory Care and Medical Imaging. 
About Appalachian Regional Healthcare
Appalachian Regional Healthcare (ARH), is a not-for-profit health system operating 14 hospitals in Barbourville, Hazard, Harlan, Hyden, Martin, McDowell, Middlesboro, Paintsville, Prestonsburg, West Liberty, Whitesburg, and South Williamson in Kentucky and Beckley and Hinton in West Virginia, as well as multi-specialty physician practices, home health agencies, home medical equipment stores and retail pharmacies. ARH employs more than 6,500 people with an annual payroll and benefits of $330 million generated into local economies. ARH also has a network of more than 600 active and courtesy medical staff members. ARH is the largest provider of care and the single largest employer in southeastern Kentucky and the third-largest private employer in southern West Virginia.
Media Contacts
Michele McKnight
Marshall Health Network/Joan C. Edwards School of Medicine
Recent Releases