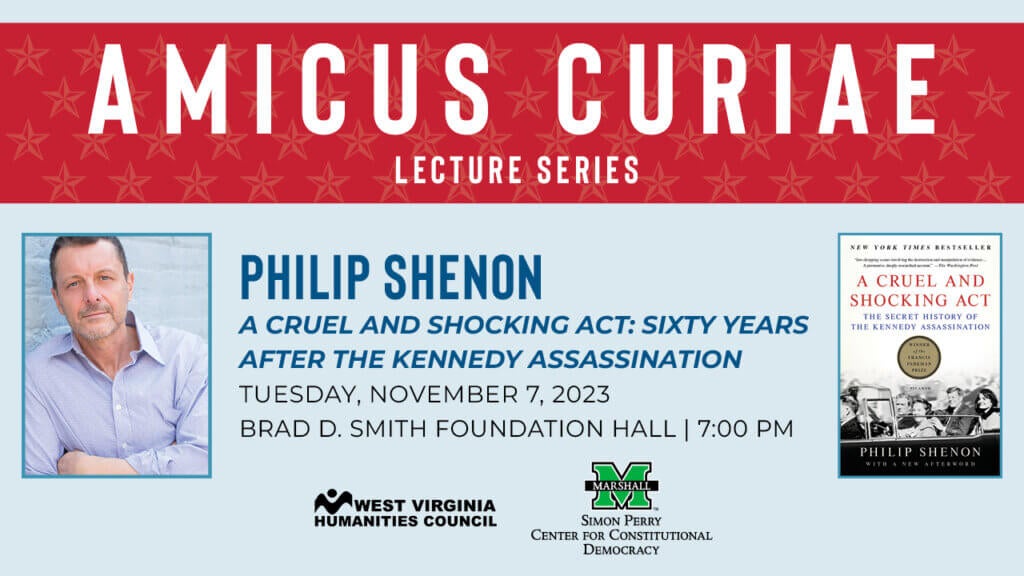 Marshall University's Amicus Curiae Lecture Series on Constitutional Democracy will feature Philip Shenon, author of the award-winning book, A Cruel and Shocking Act: The Secret History of the Kennedy Assassination.
Shenon's lecture will be on Tuesday, Nov. 7, at 7 p.m. in the Brad D. Smith Foundation Hall. Shenon, an investigative journalist, reported for The New York Times for more than twenty years, serving as the Washington correspondent covering the Pentagon, the Justice Department and the State Department. He also served as a foreign correspondent reporting from more than sixty countries and several war zones.
Shenon will discuss the work of the lawyers on the Warren Commission and its ramifications, explore the most explosive conspiracy theories about Kennedy's murder, and discuss a question raised by many: why, 60 years later, some secret government documents related to the assassination are still being hidden from the public.
"Shenon has delved deeply into the work of the Warren Commission and explored the evidence for the many theories of what was behind the murder of the President 60 years ago, " said Patricia Proctor, founding director of the Simon Perry Center for Constitutional Democracy. "As a long-time investigative journalist covering the highest levels of government, he is very familiar with the legal issues regarding classified information, which is still pertinent to the history of this crime that impacted our nation six decades ago, but not all of which is accessible to the American people. "
A Cruel and Shocking Act: The Secret History of the Kennedy Assassination was named the best American history book of the year by the Society of American Historians at Columbia University and has been widely used to teach college-level courses related to the Kennedy assassination.
"I am excited that Phil Shenon will lecture regarding the investigation into President Kennedy's assassination," Proctor said. "We will mark the 60th anniversary of that terrible event in November, and even now, this subject remains important to many people, as does the fact that Americans still do not have access to all the evidence related to the crime. As citizens in a democracy, it is valuable to explore reasons – whether good or bad – that this is so."
The lecture is sponsored by Marshall's Simon Perry Center for Constitutional Democracy with support from the West Virginia Humanities Council and is free and open to the public. For more information contact Proctor by e-mail at patricia.proctor@marshall.edu.
Recent Releases