Doctor of Physical Therapy
Plan of Study/Course Description
The curricular model is a modified case-based model, designed in a "builds on, leads to" manner which is delivered in a full time, in-house format utilizing lecture, labs, small group discussion, case seminars, and clinical visits and internships, starting with education in the basic foundational sciences that inform the content of the field. Faculty who teaches the foundational sciences facilitates discussion drawing on research, clinical experiences, and personal/professional activities to model professional behaviors, elucidate psychosocial and ethical issues, and present a broad application of course content to practice settings. Through clinical cases intermingled within basic science didactic content, students are challenged to apply basic science information to solve clinical problems. Instruction in these basic science areas builds the foundation for the clinical coursework that follows.
Within any given semester, we utilize team-taught, integrated course classes to encourage synthesis of material presented. Case Application Seminars and Experiences (CASE) courses provide students the opportunity to learn collaboratively in faculty-facilitated small groups. Most semesters, students attend laboratory sessions in local physical therapy/rehab clinics for hands-on experiences interspersed within the didactic coursework.
Early in the curriculum, students are introduced to the basic tools of investigation in PT (Evidence Based Practice course series). Starting with the clinical decision making process, they learn to utilize literature review and scientific method to support evidence based practice, and the process for utilizing and creating evidence to improve upon the body of knowledge that informs the profession. Basic clinical skills coursework forms the foundation for more advanced clinical courses in diagnosis and management.
Faculty emphasizes utilization of current, evidence-based practices that are built on the foundational sciences and are consistent with published research and clinical outcomes in the diagnosis and management process. Knowledge of the professional aspects of practice is integral to successful hands-on practice, and necessary to become a competent practitioner. Therefore, a series of professional practice courses inculcate a working knowledge of communications, educational methodology and process, culture, ethics, law, health care delivery systems, administration, and the political aspects that influence the field of physical therapy.
Dual DPT/MBA Degree
Set Yourself Apart
The School of Physical Therapy, in conjunction with the Lewis College of Business MBA program, has developed an exciting new opportunity for selected DPT students.  The dual DPT/MBA degree is an option for enrolled Doctor of Physical Therapy students who seek a career as a private practice owner, clinical manager, or healthcare administrator.  The dual degree provides graduates with enhanced education and training to prepare them for healthcare administrative roles.  The Marshall University dual DPT/MBA degree is one of a handful of programs in the United States to offer such a degree.  The dual degree leverages resources from two colleges into one powerful dual degree.
Why choose the dual DPT/MBA degree?
The program is designed for highly motivated physical therapy students who seek knowledge and experience in business administration to propel their physical therapy careers.  Many physical therapists find themselves in supervisory, managerial, or practice ownership without having the requisite knowledge of accounting, marketing, organizational behavior, finance, decision-making, information systems, business policy, and strategic planning.
By combining the Doctor of Physical Therapy (DPT) and the Master of Business Administration (MBA) in a dual-degree program, the graduate will be prepared for healthcare leadership positions and will set Marshall University graduates apart from their peers by providing them with business acumen.
Opportunities for DPT/MBA graduates include
Physical Therapy Department Manager
Executive positions in the health care industry
Leadership positions in the American Physical Therapy Association
Private Practice Ownership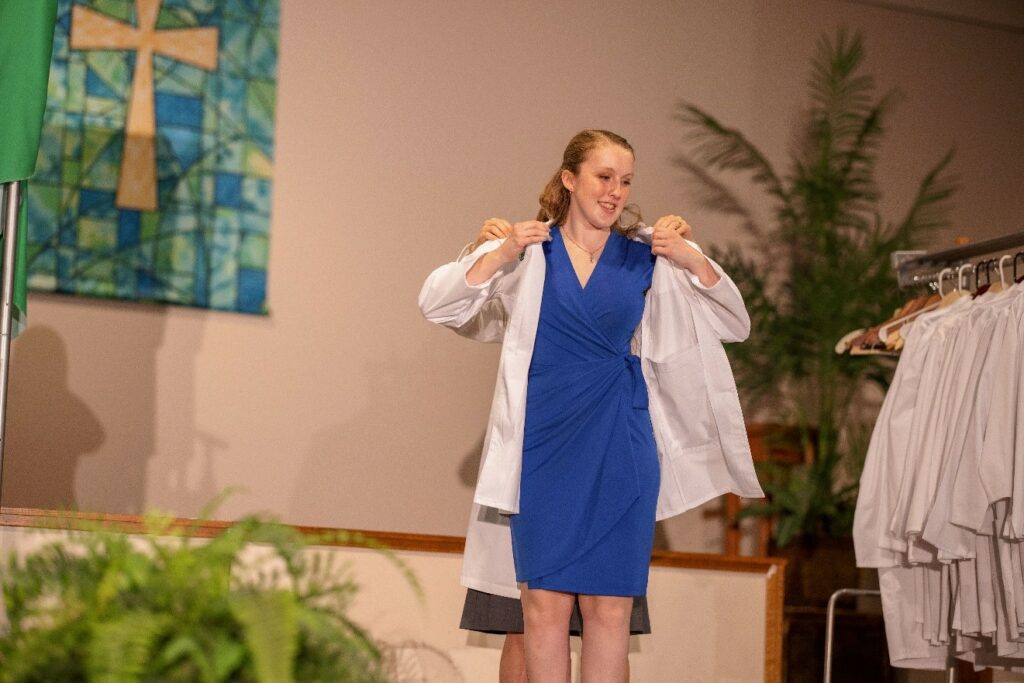 How does the program work?
Students admitted to the DPT/MBA program will complete the first two years of the DPT curriculum, plus three foundational courses in business (e.g., accounting, economies, finance).  Dual degree students will then "step out" (educational leave of absence) of the DPT curriculum to complete a one-year MBA curriculum.  Students will then return to the School of Physical Therapy to complete the third year of the DPT program.  
Admissions Requirements
Students interested in the dual degree (DPT/MBA) will indicate interest as part of the PTCAS application or following their first semester of the DPT program by contacting the chair of the Admissions Committee.  Students must satisfy all the requirements of the regular DPT admissions process.
Students accepted into the DPT/MBA program must successfully complete the first two semesters (Year 1 -Summer and Fall) of the DPT curriculum with a minimum of 3.0 GPA or higher on a 4.0 scale.  Students who have been on academic or professional probation are not eligible for the dual DPT/MBA program.
Students must apply to the DPT/MBA dual degree program no later than December 1st of their first year of the DPT program.
Students will be formally accepted into the dual degree program at the start of the spring semester of the first year and will be scheduled for foundational MBA coursework in the summer of year two of the DPT program.
Application Process
MBA graduate-level prerequisite courses must be completed prior to the summer of year three when foundational MBA coursework begins.
a. ECN 250: Principles Macroeconomics
b. ACC 215: Accounting Principles
Application requirements must be satisfied for both the DPT and MBA program for full admission to the dual degree program. Students must submit no later than December 1st of their first year in the DPT program the following materials.
a.  Personal Statement of Intent – should reflect the student's motivation for pursuing a dual degree and plans for continued academic success pending acceptance to the program.
b. Two letters of recommendation, one of which must be from a DPT faculty member.
c. Signed Verification form attesting to professional and academic standards through signatures from the Chair of program and student's advisor.
Students will be notified no later than the start of the spring semester with clearance to complete the following:
a. Complete and submit the graduate application for admission to the MBA program. Select Master's Degree code GB10 and indicate "Dual-Degree"
b. Pay the non-refundable Graduate Admissions fee ($40) by March 1
Plan of Study
DPT MBA Application Verification Form