Senior Vice President for Communications and Marketing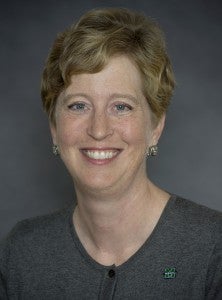 Ginny Painter has 30 years experience in higher education and government communications, marketing and administration, including at the West Virginia Higher Education Policy Commission, the University of Charleston and the Marshall University Research Corporation. She also has served as communications director and deputy commissioner of the West Virginia Division of Culture and History and in communications roles for the state affiliate of the American Lung Association and the Black Diamond Girl Scout Council.
She was named to her current position in August 2014 and is responsible for the university's overall communications, media and public relations, research-based messaging, marketing and branding activities.
She serves on the boards of directors of the West Virginia Jobs Investment Trust and TechConnect West Virginia.
In 2001, the West Virginia chapter of the Public Relations Society of America (PRSA) recognized her with its prestigious Practitioner of the Year award, and she received the organization's Chapter Service Award twice—in 1995 and again in 1999. In 2013, she received the chapter's TriCrystal Award, an award presented to the nine members in the chapter's 35-year history who have received both the Practitioner of the Year and Chapter Service awards, and who have served as chapter president.
She was honored with the Distinguished West Virginian Award by Governor Joe Manchin in 2009 for her work on the new West Virginia State Museum. In 2018, she received a Women of Marshall Outstanding Achievement Award from the Marshall University Women's Center and Women's Studies Program.
A native of Saint Albans, she has a bachelor's degree in journalism/public relations from Marshall University and a master's degree in business administration from the University of Charleston.