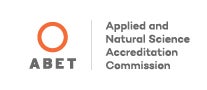 Program Description
Applied and Natural Science Accreditation Commission of the Accrediting Board for Engineering and Technology (415 N. Charles Street, Baltimore, MD 21201; telephone 410-347-7700) accredits the Safety Technology undergraduate program.
The Bachelor of Science degree in Occupational Safety and Health offers students the opportunity of preparing for entry-level positions in industry, governmental agencies, and related service industries. The need for Safety Professionals has expanded due to Federal and State legislation governing safety and health in the workplace and an increase in public awareness of safety and health factors.
The safety profession is an occupational field concerned with the preservation of both human and material resources through the application of various principles drawn from such disciplines as engineering, education, psychology, physiology, enforcement, hygiene, health, physics and management. "Safety Science" is a term for everything that goes into the prevention of accidents, illnesses, fires, explosions and other events which damage people, property and the environment.
The Program Educational Objectives of Marshall University's BS in Occupational Safety and Health have been developed to prepare graduates to achieve the professional accomplishments and recognition appropriate for successful careers in occupational safety and health including:
Within a few years of graduation,
Graduates will be able to apply a broad educational background in mathematics, science, technology, communications, and management to the challenges and demands of occupational safety and health in industrial, commercial, governmental, and service organizations of today's global economy.
Graduates will be able to apply critical thinking skills to the anticipation, identification, evaluation, prevention and control of occupational and environmental hazards relative to accident prevention, construction safety, environmental protection, emergency preparedness, ergonomics and human factors, fire prevention, hazardous materials safety, industrial hygiene, process safety, and occupational health.
Graduates will be able to apply communication, problem solving, and team building skills to facilitate the continuous improvement of occupational safety, environmental health, and risk control management systems.
Graduates will develop ethical, societal, and professional responsibility, recognize the limits of their knowledge, and pursue life-long learning opportunities to enhance their value to the organizations, communities and stakeholders they serve.
It is the responsibility of the Industrial and Systems Engineering Department to ensure that baccalaureate degree students graduating from the Occupational Safety and Health Program at Marshall University will be able to demonstrate the following Student Outcomes with respect to the occupational safety and health profession:
An ability to identify, formulate, and solve broadly defined technical or scientific problems by applying knowledge of mathematics and science and/or technical topics to areas relevant to the discipline.
An ability to formulate or design a system, process, procedure or program to meet desired needs.
An ability to to develop and conduct experiments or test hypotheses, analyze and interpret data and use scientific judgment to draw conclusions.
An ability to communicate effectively with a range of audiences.
An ability to understand ethical and professional responsibilities and the impact of technical and/or scientific solutions in global, economic, environmental, and societal contexts.
An ability to function effectively on teams that establish goals, plan tasks, meet deadlines, and analyze risk and uncertainty.
B.S. in Occupational Safety and Health
Note: Enrollment is from the fall term of the year specified for the past five years. Graduations are for the Summer/Fall/Spring of the year specified.
Admission Requirements
General Marshall Admission requirements and a minimum MTH ACT of 19 (Math SAT 460).
B.S. Degree Requirements
B.S. in Occupational Safety and Health curriculum.
Academic Year
2020-2021
Academic Year
2019-2020
Academic Year
2018-2019
Academic Year
2017-2018
Academic Year
2016-2017
Annual Enrollment
31
54
69
82
76
Graduation Data
2
11
21
8
18
Additional institutional enrollment and graduation data, including major-specific details, are available on the website of Marshall's Office of Institutional Research (see the "Student Data Book" posted at: https://www.marshall.edu/irp/institutional-data/)
Minor Options
There are two minors offered in the Safety Technology program.
Occupational Safety and Health Minor (16 CH)
The courses in this minor include CHM and PHY prerequisites.
SFT 235 – Introduction to Safety (3 CH) – Note: this is a Marshall Plan International course
SFT 372 – Safety and Industrial Technology (3 CH)
SFT 373 – Principles of Ergonomics (3 CH)
SFT 373L – Principles of Ergonomics Lab (1 CH)
SFT 499 – Occupational Safety Program Management (3 CH)
Safety Elective (3 CH)
Safety Technology Minor (15 CH)
SFT 235 – Introduction to Safety (3 CH) – Note: This is a Marshall Plan International course
SFT 372 – Safety and Industrial Technology (3 CH)
SFT 375 – Construction Safety (3 CH)
Safety Electives (6 CH)