The College of Liberal Arts awards the Distinguished Alumni accolades each year for outstanding national achievements in their particular field of endeavor. Click on the tabs below to meet our honorees from the past several years.
For his contributions to our campus as a student; for his lifetime of dedication to Marshall, Huntington, and the state of West Virginia; and for his generosity in devoting his time and effort to local agencies, community causes, and current students across the state, Bobby was recognized as the College of Liberal Arts Distinguished Alumnus for 2017.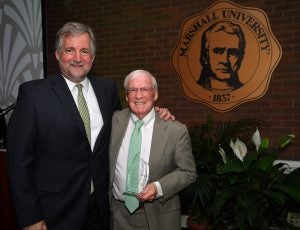 Bobby Nelson is a native of Boone County and a 1953 graduate of Sherman High School. After high school, he joined the Marine Corps, where he served for 4 years. In 1957, he returned to his hometown fully intending to work in the coal fields, as most of his friends, acquaintances and family members had.
But a favor for a friend changed his plans, and changed our state. As Bobby describes it, a friend of his needed a ride to Huntington so that he could enroll in classes at Marshall. He intended to do his friend this favor and return home to work in the coal fields to help support his family. But the Registrar pestered him about enrolling in school, talked to him about the GI Bill, promised to help him find a job so that he could send money home. That favor for a friend turned into a BA in Political Science in 1960 and an MA in American Government in 1967.
While a student at Marshall, he served in student government, started a Veteran's Club on campus and served as Campus Director for the Hechler congressional campaign and the Students for Kennedy in 1960. He led the student effort to gain University status for Marshall, gathering thousands of signatures, personally delivered to then-Governor Cecil Underwood.
The activism he showed on campus was just the beginning. After receiving his Bachelor's degree, Bobby began a 10-year association with Ken Hechler, as Hechler's administrative assistant. In 1965, he was elected to the WV State Legislature and six years later he was elected to the State Senate, where he served for 14 years. He was then elected Mayor of Huntington, serving in that office for 8 years. In the state legislature, Bobby sponsored legislation for the construction of the Cam Henderson Center and supported the effort to build Edwards Stadium. He sponsored legislation to provide annual salary increments for faculty and staff, and he added faculty and student representatives to the Board of Regents.
Nelson is a teacher—leading classes at Marshall, the University of Charleston, and Ohio University, Ironton. He is a mentor, directing the Herndon Legislative Intern program since 2012. He is a businessman, running Nelson's Corner Grocery for four years. He is a reality radio star, hosting a local talk show for 4 years. He is a man of many talents and a champion of many causes.
Dr. John Burke has distinguished himself in not one or two areas, but in Education, Communication, Administration, Healthcare Services, the Arts, and Social Services. When he started out to build his life after high school, he wasn't sure what he wanted to do – so he solved that problem by excelling at practically everything.  Dr. John Burke was recognized as the College of Liberal Arts Distinguished Alumnus for 2016.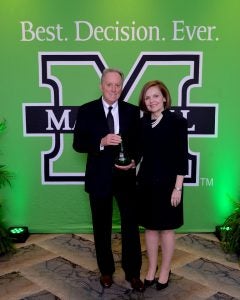 John Burke was born in Huntington, WV and took the scenic route to success after high school. Not because his journey was leisurely, but because he traveled so far and took in so many stops along the way. He began his journey in seminary, but that wasn't a good fit, so he attended the University of Kentucky for a time. He found his way back to Huntington. He spent two years as an intern for Ken Hechler's office in the House of Representatives. In the early 60's he began work at WSAZ as a writer and reporter. His success in that job led him to enroll in Marshall where he pursued a double major in Speech Communication and Political Science. At that time, the Communication department still housed the Theatre program, and John became involved in theatre, playing Hamlet in his senior year at MU. After earning his BA, he went on to get an MFA at Ohio University in Communication and Broadcasting. He then pursued a Ph.D. in Communication at Ohio State.
He started out as an instructor at Kent State, then he was hired to the faculty of the Biomedical Communications Division of Ohio State, where he worked for 15 years as faculty member, as Director of Biomedical Communications for the University Hospitals, as Assistant Director of the OSU Telecommunications Center, and as Editor of the Journal of Allied Health. He moved on to a position as Professor at the University of Illinois, Chicago; where he held faculty positions in Communication, Bio-communication Arts, and the Center for Educational Development. He was Chair of the Department of Associated Medical Sciences and Associate Dean for Academic Affairs.
In 1987, the year I was hired as a new faculty member in Speech Communication here at Marshall, Dr. Burke took a position at Abbot Laboratories as Manager of Medical Communications. He continued to serve as Manager of New Product Development and National Manager of Scientific Relations. After ten years at Abbot, he became President and CEO of the Accreditation Association for Ambulatory Health care – an organization he led for the next 18 years.
Not surprisingly, when Dr. Burke retired last year from AAAHC, he simply couldn't stop working. So he has taken on the task of starting up a consulting subsidiary of ZP&W's law firm, where he will provide leadership and consulting services in his many areas of expertise:  non-profits, health care service organizations, educational institutions, arts and entertainment agencies and social service organizations.
Carter Taylor Seaton is an accomplished businesswoman, an award-winning author, a talented author, an inspiring educator, and a tireless supporter of the communities in which she has lived. She has served Goodwill Industries, the Dogwood Festival, the Mountain State Arts and Crafts, and the Huntington Museum of Art, just to name a few. Carter Taylor Seaton was recognized as the College of Liberal Arts Distinguished Alumna for 2015.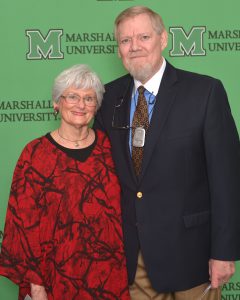 One of Marshall's most talented and accomplished alumni is Ms. Carter Taylor Seaton. Carter spent nearly twenty years studying at Marshall University. She came to Marshall in to study English shortly after high school. She pursued her degree while married and raising four children. She had an active role in the Junior League and Women's Club of Huntington. She directed and Appalachian Craft Cooperative to benefit low-income women, and she was nominated by Ladies Home Journal as Woman of the Year in 1975. She somehow found time to earn her Bachelor's degree, cum laude, in 1982, and three years later earned her MBA.
Although she completed her degree while in her forties, Carter was just getting started. She has had a long career as a fundraiser, grant writer, marketer, and teacher. She ran her own marketing and consulting firm in Atlanta in the 80's. She served as Promotions and Special Events Manager and Director of Marketing for the Columbus Convention Center. She was Trade and Marketing Manager for Underground Atlanta and Sales and Marketing Manager for the Columbus Square Mall. She also founded Exciting Excursions in Columbus, GA.
But as most Huntingtonians know, Carter Seaton's accomplishments go far beyond her successful business career. Carter is an award-winning author. Her first novel, Father's Troubles, was published in 2003 and was a finalist in ForeWord magazine's Book of the Year award. She penned a second novel, "amo, amos, amat…an unconventional love story" in 2011. She has authored numerous magazine articles and nonfiction works.  Her article, "Those Who Came," about the "back to the land" movement in Appalachia won best nonfiction award from Appalachian Heritage.
Carter's artistic interests don't stop there. Since taking up pottery in 1996, she has become an accomplished sculptor, with her bust of Governor Cabell on display in the Cabell County courthouse, and her bust of Nate Ruffin can be viewed in our own Foundation Hall.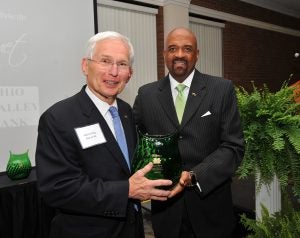 Aubrey King received his B.A. degree magna cum laude from Marshall University in 1963. While at Marshall, he majored in political science with minors in economics and history and was a four-year member of the university debating team, while also competing in extemporaneous speaking.
He was born and raised in Iaeger in McDowell County, where he was a 1959 graduate of Iaeger High School.  His two brothers also graduated from Iaeger High School and Marshall and their family roots in the county go back more than a century and a half.
After graduating from Marshall, King was awarded a Rotary International Fellowship for a year's study at the Indian School of International Studies in New Delhi, India. He later received an M.A. degree in political science from The Johns Hopkins University in Baltimore, MD. After teaching government and politics at the University of Maryland in College Park, MD., King has spent more than three decades as a professional lobbyist in Washington, D.C., where he has represented diverse trade associations and other clients. In 1997, he established the national government affairs consulting firm of Aubrey C. King & Associates, which specializes in issues related to the national parks, forests and other public lands, as well as transportation policy.  He has also been an adjunct lecturer at George Washington University, teaching the politics of tourism and recreation.
At Marshall, King was greatly influenced by a number of outstanding faculty members, including Dr. Ben Hope, Professor of Speech and Coach of the Debating Team, Dr. Paul Stewart, Professor of Political Science, Dr. Herschel Heath, Professor of History, and Mr. William Cook, who taught economics.
He is married to the former Mary Margaret Loemker, who received her B.A. and M.A. degrees from Marshall and whose father was Dr. Kenneth K. Loemker, who had a distinguished career of more than forty years at Marshall as Dean of Men, Professor of Psychology and Chair of the Psychology Department.
He and his wife proudly have a son, Christopher, who lives with his wife, Shannon, in Charlotte, North Carolina, and a daughter, Catharine, who lives with her husband, Jordan, in Aiken, South Carolina, and three grandchildren, Camden, Caroline and Jackson.