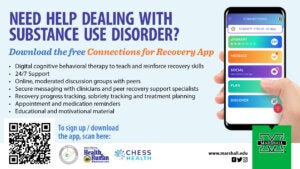 Marshall University is partnering with the West Virginia Department of Health and Human Resources to provide help for students who may be struggling with substance use disorder during the COVID-19 pandemic.
The smartphone app by CHESS Health, called Connections, is free to West Virginia residents and can be paired with management from an addiction treatment provider or may be utilized by individuals for its included recovery tools. The app was made available after licenses were purchased for 45 treatment organizations across the state and unlimited access was made available for any individual residents who are not affiliated with a provider.
Matthew Christiansen, M.D., M.P.H., director of the Office of Drug Control Policy with the WV DHHR, says the app is an excellent way to get connected and get help. In addition to his work with the WV DHHR, Christiansen is an associate professor of family and community health at the Marshall University Joan C. Edwards School of Medicine.
"If you're a student in recovery, not yet in recovery or just looking for support, the Connections app is a free, evidence-based tool to help you achieve your dreams," said Christiansen. "Recovery happens every day."
Offerings on the app's addiction management platform include access to a sobriety tracker, e-therapy and discussion groups, the ability to connect with trained counselors and peers through messaging, treatment plans and calendar reminders, journaling, clinical support and motivational videos.
Amy Saunders, managing director of Marshall University Research Corporation's Center for Excellence and Recovery (COER), says the app is just the latest in a long list of assistance that is available for students.
"Marshall is committed to helping support our students," said Saunders. "There are multiple pathways to recovery. The MU Collegiate Recovery Community (CRC) strives to meet students where they are, by offering supportive services and a healthy environment to enable students to be successful as they work toward their higher education dreams. We are honored to be one of the campuses that was awarded this funding through WV DHHR."
Currently, the CRC offers both in-person and virtual group meetings regularly. Groups include: All-Recovery, a non-denominational, open meeting for people who are fighting addiction and which also offers support for their loved ones; SMART Recovery, a mental health and educational program focused on changing human behavior; SMART Recovery Family & Friends, a group which provides family and friends of those dealing with addiction the tools needed to cope with their situation; and GRO Marshall, a wellness fellowship which nurtures mind, body and spirit through a connection to nature.
To sign up and download the Connections app, visit https://www.connectionsapp.com/connections4wv/.
To check out other offerings by the Marshall CRC or to sign up for a group, visit https://www.marshall.edu/collegiate-recovery-community/info/ or e-mail collegiaterecovery@marshall.edu.