Connections
Connections is an online app created to support individuals in recovery. The State of West Virginia is currently partnered with CHESS Health to launch a free version of the app that is available for most smartphones. Connections is scientifically proven to support consumers in recovery by reducing return to use and promoting pro-social engagement.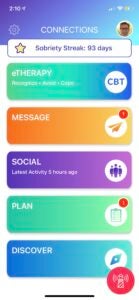 A Free Smartphone App to Help with Recovery
With the app you can:
Track your sobriety,
Access e-therapy to learn new recovery skills,
Connect with trained counselors and peers through messaging,
Track your treatment plan and set reminders,
Journal daily about your journey,
Clinical support available,
And discover helpful videos, testimonials and more through the unique resource library.
Connections is the only available app that is backed by years of research to support its provider-care management functionality, predictive relapse indicators, and analytics to reduce relapse.

Be The One Naloxone Training
The Be The One Naloxone Training is brought by the WVCRN, WVDII, and the SAFE Project.
Welcome to the Be The One Naloxone Education Course

Be The One Naloxone Training Videos

Additional Naloxone Resources

Post-Program Survey and Program Evaluation

Request your FREE Naloxone Kit

Be The One Ally Training 
The Be The One Ally Training is brought by the WVCRN, WVDII, and the SAFE Project.
What is Substance Use Disorder?
What is Recovery?
The Roll of Stigma
What is Allyship?
Making an Impact
West Virginia Drug Intervention Institute

West Virginia Drug Intervention Institute is currently working with the West Virginia Collegiate Recovery Network to launch a new overdose prevention initiative on West Virginia's college and university campuses entitled, "Be The One." The initiative is the first of its kind and will focus on opioid overdose prevention from a bystander's perspective, encouraging students, staff, and faculty to Be The One to save a life.
Substance Abuse in Graduate School: Resources & Support (onlinemastersdegrees.org)
Substance abuse impacts a significant number of adults in the US, even while in graduate school. This guide shares how to recognize the signs and how to find or give support, plus provides a list of resources to help.

Support Meetings
Gro is:
A community, which encourages personal healing through connection to nature
Open to everyone interested in bolstering mental health and resilience
Encourages cultivating natural beauty, healthy foods and neighborly service
Weekly Gro Marshall meetings are online every Wednesday at 12:00 PM.
"Self-Management and Recovery Training (SMART) is a global community of mutual-support groups. At meetings, participants help one another resolve problems with any addiction (to drugs or alcohol or to activities such as gambling or over-eating). Participants find and develop the power within themselves to change and lead fulfilling and balanced lives guided by our science-based and sensible 4-Point Program. ®"
Go to "Find a Meeting" and click on "Search Online Meetings"
CoDA (Co-Dependents Anonymous)
Co-Dependents Anonymous is a twelve-step program for people who share a common desire to develop functional and healthy relationships.
"We welcome you to Co-Dependents Anonymous, a program of recovery from codependence, where each of us may share our experience, strength, and hope in our efforts to find freedom where there has been bondage and peace where there has been turmoil in our relationships with others and ourselves."
Al-Anon Family Groups
Help and hope for families and friends of alcoholics
"In Al-Anon and Alateen, members share their own experience, strength, and hope with each other. You will meet others who share your feelings and frustrations, if not your exact situation. We come together to learn a better way of life, to find happiness whether the alcoholic is still drinking or not."
Scroll down and Click on "FIND AN ELECTRONIC MEETING"
AA (Alcoholics Anonymous)
Alcoholics Anonymous is an international mutual aid fellowship with the stated purpose of enabling its members to "stay sober and help other alcoholics achieve sobriety." AA is nonprofessional, self-supporting, and apolitical. Its only membership requirement is a desire to stop drinking.
Click to find an AA meeting near you.
Narcotics Anonymous describes itself as a "nonprofit fellowship or society of men and women for whom drugs had become a major problem". Narcotics Anonymous uses a traditional 12-step model that has been expanded and developed for people with varied substance abuse issues and is the second-largest 12-step organization.
Click to find a NA meeting near you.
Recovery Dharma
Recovery Dharma is a peer-led movement and community that is unified by their trust in the potential of each person to recover and find freedom from the suffering of addiction. They believe that recovery means empowerment, and they support each member as partners walking the path of recovery together. Recovery Dharma uses the Buddhist practices of meditation, self-inquiry, wisdom, compassion, and community as tools for recovery and healing. They believe that recovery in about finding inner wisdom and a person's own path.
WellTrack
WellTrack is designed to help you understand your mental health and to provide you with the help that you need right now. WellTrack is a suite of online tools and courses that uses aspects of Cognitive Behavioral Therapy to help you identify, understand and address issues that you are having.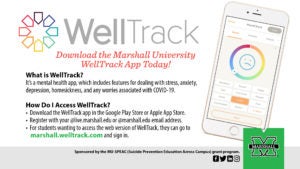 Movable
Movable: Narratives of Recovery and Place is an interactive community platform that solicits, publishes, and archives written and audio-visual narratives of recovery from substance use disorder (SUD) in Appalachia and beyond. Movable enables individuals in recovery to share their stories, and the site allows those with SUD to read, react to, and be inspired by recovery narratives.
Harm Reduction
Harm reduction is a set of practical strategies and ideas aimed at reducing negative consequences associated with drug use. Harm Reduction is also a movement for social justice built on a belief in, and respect for, the rights of people who are in active addiction. Harm reduction does not encourage the use of drugs, but accepts that some people are not ready to start long-term recovery and promotes safety and reduction of disease and overdose by providing sterile supplies, STD testing, Naloxone, and community education.
For more information about harm reduction in Cabell County please visit the Cabell Huntington Health Department website.