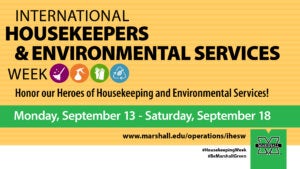 Marshall University will highlight and honor the hard work of its housekeeping, grounds and sustainability staff Monday, Sept. 13, through Saturday, Sept. 18, during International Housekeepers and Environmental Services Week.
Throughout the week, faculty and staff will have an opportunity to partner with a housekeeper, grounds or sustainability staff member to work alongside them, to learn firsthand about the effort required to maintain the university's campuses and facilities.
Marshall University President Dr. Jerome Gilbert is one of the volunteers, scheduled to work with the Sustainability Department.
"This is an excellent way to show our appreciation for the hard work these staff members do on campus every day," said Gilbert. "Their efforts are vital to the university's success and should not go unnoticed."
Director of Housing and Residence Life Mistie Bibbee says the work to keep the campus clean has been especially challenging in the last year, due to the COVID-19 pandemic.
"While our campus service workers are traditionally some of our hardest working, dedicated employees, their commitment to the Marshall Family really shone last year," said Bibbee. "Our staff was on campus each day during the pandemic and last academic year to ensure the health and safety of students on campus. The commitment to and concern for our students that our campus service workers have is a key factor in making the residence halls a home for the residents."
Marshall has offered housekeeping, grounds and sustainability staff free tickets to the Marshall-NC Central football game on Saturday, Sept. 11. Also, students and employees are encouraged to send thank-you cards and gifts to their favorite housekeepers, grounds and sustainability staff members. On Friday, Sept. 17, Marshall will celebrate with free lunch for honorees, served from noon to 2 p.m. on the Memorial Student Center Plaza.
For more information, please visit https://www.marshall.edu/operations/ihesw/.