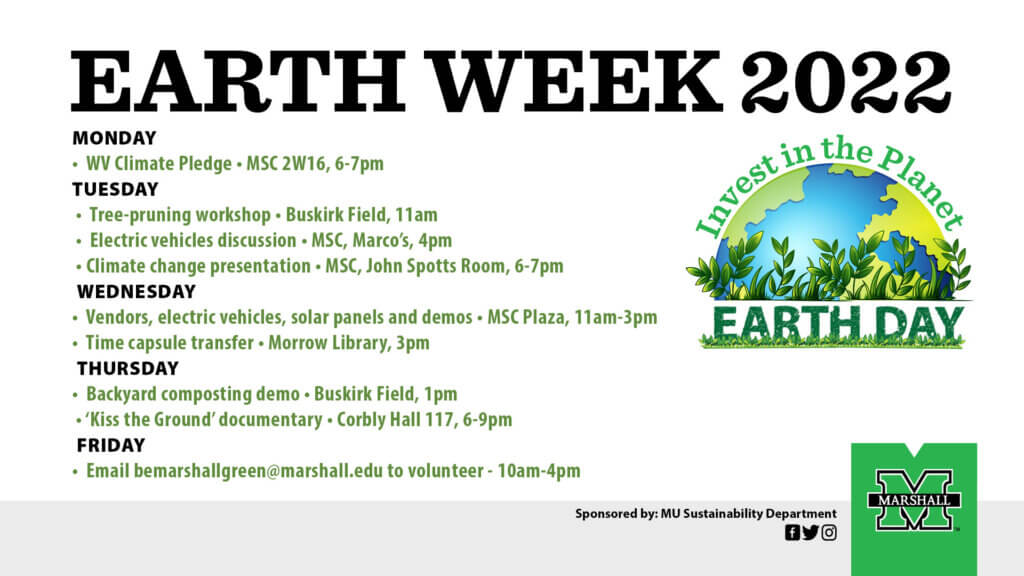 Marshall University is preparing for Earth Week activities, set to begin on Monday, April 18, on its Huntington campus. The week of hands-on learning resumes after a two-year hiatus, due to the COVID-19 pandemic.
The theme for Earth Week 2022 is Invest in the Planet. Events throughout the week will include talks, demonstrations and teach-ins; however, the main activities will take place on Wednesday, April 20, on the Memorial Student Center Plaza and Buskirk Field from 11 a.m. – 2 p.m., rain or shine.
Marshall Sustainability Manager Amy Parsons-White says she hopes the diverse group of vendors and activities available during Earth Week will teach those in attendance about all aspects of sustainability and a healthy planet.
"We believe to truly invest in the planet, we need to invest not only in the earth itself, but also in her people," said Parsons-White. "A healthy, sustainable planet must include social equity and social justice, accessible food, and clean water, soil and air."
Daily events are as follows:
Monday, April 18
 Memorial Student Center, room 2W16, 6– 7 p.m. – West Virginia Coalition presents on the West Virginia Climate Pledge. Collective and transformational action on climate change is necessary to meet the science-based climate targets and avoid the worst impacts.
Tuesday, April 19
Buskirk Field, 11 a.m. – WVSU Extension Service Agriculture & Natural Resources Division will hold a tree-pruning workshop on Buskirk Field.
 Memorial Student Center, Marco's, 4 p.m. – West Virginia Electric Auto Association host discussion on the current state of electric vehicles, as well as pertinent information needed before and after the purchasing process.
Memorial Student Center, John Spotts Room, 6–7 p.m. – Presentation on climate change, food sovereignty and the systemic structures of our food system that act as barriers to social (and food) justice.
Wednesday, April 20
Memorial Student Center Plaza, 11 a.m. – 3 p.m. – Earth Day event with vendors, electric vehicles, solar panels, demo charging stations and other activities, such as mushroom workshops and Leave No Trace camping demonstrations. Tours of the rooftop and student gardens, as well as the greenhouse will also be offered.
James E. Morrow Library, 3 p.m. – Marshall's Drinko Academy, University Libraries and the Department of Sustainability in partnership with the League of Women Voters of West Virginia and the West Virginia Climate Alliance will transfer a time capsule to the James E. Morrow Library. Contents of the time capsule include contributions from multiple organizations, research on alternative energy technologies, articles that document current events that are shaping climate future and correspondence. Written contributions to the time capsule will be accepted at the Earth Day event on the MSC Plaza.
Thursday, April 21
Buskirk Field, 1 p.m. – The MU Sustainability Department Compost Coordinator will host a backyard composting workshop. An educational soil trailer from the West Virginia Conservation Agency will also be in attendance.
Corbly Hall, room 117, 6–9 p.m. – The documentary, "Kiss the Ground," will be presented, followed by a panel discussion. The film details why regenerating the world's soils has the potential to rapidly stabilize Earth's climate, restore lost ecosystems and create abundant food supplies. Popcorn will be served.
Friday, April 22
10 a.m. – 4 p.m. If interested in volunteering, send an e-mail to bemarshallgreen@marshall.edu to work with one of the Sustainability Department's many campus projects, including the Marshall Thrift Store or student gardens.
Saturday, April 23
9 a.m. – Noon – If interested in volunteering with the Earth Day trash clean-up sponsored by the Huntington Storm Water Utility, contact Carrie Denvir by e-mail at carrie.denvir@huntingtonswu.com for details.
Media are invited and encouraged to attend. Members of the public, organizations and school groups are also welcome. For more information on the Marshall University Sustainability Department, visit https://www.marshall.edu/sustainability/.