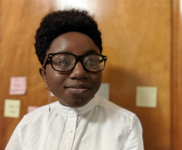 May, 2020 · College of Engineering and Computer Sciences
Undergraduate students in Department of Computer Sciences and Electrical Engineering program received multiple grants and published their research to the conferences.
• Cameron Prater received NASA West Virginia Space Grant Undergraduate Fellowship Program Award ($5,000), Fall 2020 – Spring 2021.
• Jared Carte received 2020 NASA Undergraduate Research Fellowship ($5000.00).
• Jacqueline Brown received Summer 2020 Research Experiences for Undergraduates (REU) Sites Award ($7,200) from Old Dominion University, May 26 to August 1, 2020
• Evan J. Allen received Undergraduate Creative Discovery and Research Scholar Award ($4,000) under the supervision by Dr. Imtiaz Ahmed)for Summer 2020 from Marshall University.
• E Jacqueline Brown and Logan Carpenter's research paper presented at 2020 IEEE 21st International Conference on High Performance Switching and Routing (HPSR), 11-14 May 2020.
• Evan J. Allen's research paper (supervised by Dr. Imtiaz Ahmed) presented at IEEE Vehicular Technology Conference (VTC) Spring 2020.