Unmanned Vehicle Laboratory (UVL)
The Unmanned Vehicle Laboratory (UVL) was recently established to support various interdisciplinary collaborative research in the College of Engineering and Computer Sciences.
UAVs, or drones, have become increasingly popular among researchers, engineers, and hobbyists. The United States Federal Aviation Administration (FAA) forecasts that the number of commercial fleet of drones will be more than 450,000, whereas the number of units of personal and hobbyist drones will exceed 2.4 million by 2022.  The UVL draws students from across the College of Engineering and Sciences, including students seeking degrees in Electrical Engineering, Mechanical Engineering, Computer Science and Cybersecurity to name a few.  There are widespread and versatile new set of applications related to UAVs and the research performed in the UVL has practical applications across an array of disciplines.  The research and experiments performed in the UVL address technical challenges in areas ranging in aerodynamics, structures, propulsion, navigation, control systems, networking, telecommunications, robotics and security. UVL was developed to enable to assist students in their coursework and to facilitate undergraduate and graduate research in the areas of navigation, guidance and control systems for unmanned underwater, ground and aerial vehicles.
Marshall University faculty members Dr. Cong Pu and Dr. Haroon Malik, who both teach computer science in the College of Engineering and Computer Sciences, have been awarded EPSCoR Seed Grants from the NASA West Virginia Space Grant Consortium. Dr. Imtiaz Ahmed, who teaches electrical engineering, was awarded the Research Initiation Grant.
Pu, an assistant professor in Marshall's Department of Computer Sciences and Electrical Engineering, has been working on blockchain, cybersecurity, wireless networks and mobile computing, and information-centric networking. He received the grant for his work, "Lightweight Digital Signature Protocol for Micro Aerial Vehicles," which aims to design and evaluate a lightweight digital signature protocol to protect drones from man-in-the-middle attacks, in which an adversary eavesdrops on the communication between the Ground Control Station (GCS) and drone, and impersonates the GCS, then sends fake commands to terminate the ongoing mission or even take control of the drone.
"I am pleased with this grant award, which will allow me to continue to investigate the potential vulnerabilities and threats in wireless communications and design the corresponding security mechanisms," Pu said. "For over 40 years, drones or similar robots have been a part of NASA's fleet, from full-scale solar-powered versions to those using electric motors or propellers.
"They have been used in remote sensing for earth sciences studies, hyperspectral imaging for agriculture monitoring, tracking of severe storms, aerial surveying and mapping, etc. The proposed lightweight digital signature protocol for drones and similar robots can ultimately be integrated with current communication protocols to improve the efficiency, resilience, and reliability of a variety of drone-based NASA services and applications in the context of security attacks."
Malik, a winner of the Marshall Distinguished Artists and Scholars Award (DASA) for 2019-20 specializing in data science research, received the seed grant to develop a system for "Unmanned Ariel Vehicle (UAV) Assisted Structural Health Monitoring (SHM)."
"The overall goals for this project are to demonstrate and enhance UAV capabilities (protocols and collection techniques) to meet the SHM needs of agencies, related to transportation and civil structure assessment, often at resolutions and granularity higher than what is currently available, and to evaluate the effectiveness and quality of data collected by the UAV systems," Malik said.
Dr. Imtiaz Ahmed, an assistant professor in the Electrical and Computer Engineering program,  received the Research Initiation Grant to advance UAV-integrated terrestrial and satellite communications. Under the project title, "Wireless Channel Model for UAV Assisted Communications," he will focus on measurement based air-to-air and air-to-ground wireless channel modeling for unmanned aerial vehicle (UAV)/drone assisted communications. The UAV system infrastructure strongly depends on the communications between two UAVs and between a UAV and a ground station.  Recently, UAVs have been envisioned by third generation partnership project (3GPP) to be adopted in cellular communication systems for 5G or beyond 5G systems to provide an ad-hoc coverage to ensure the seamless or urgent communications.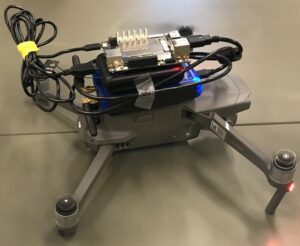 "Development of the analytical channel model is an important tool for designing signal processing algorithms and evaluating the performance of wireless systems," Ahmed said. "The collected data from the field test measurement will train a deep neural network in order to extend the developed channel model over a wide range of millimeter wave electromagnetic spectrum. The outcomes of this project will be contributed towards the advancements of standardized protocols in the field of UAV integrated terrestrial and satellite communications," said Dr. Ahmed. "We are working on wireless channel modeling for air-to-air and air-to-ground communication links and implementing different routing protocols for UAV network. We have a robust testbed, developed in our lab, that are capable to conduct a wide-range of experiments."
"I am very proud of our continuous progress in increasing research activities in the department," said Dr. Wook-Sung Yoo, chair of the Department of Computer Sciences and Electrical Engineering. "Faculty and students in the department receive more and more recognition of their significant accomplishment in research these days. Through the restructuring of the college, our faculty have more opportunities to work in partnership with colleagues in different fields to challenge each other to develop solutions from alternative ways of thinking and knowing.
"Multiple awards of NASA WV Space grants on drone research project by three faculty in the department is a great example of successful collaborative research and I am excited about it."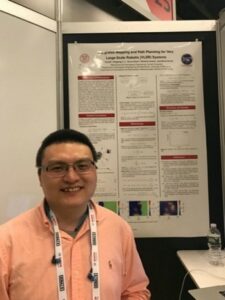 Dr. Pingping Zhu joined Marshall in 2020 after working as a research associate in the Sibley School of Mechanical and Aerospace Engineering at Cornell University and a postdoctoral associate at Duke University after his Ph.D. and M.S. degrees in the Department of Electrical and Computer Engineering from the University of Florida. His main research interests are signal processing with machine learning and artificial intelligence, intelligent control, and human behavior.  Dr. Zhu has published his research in numerous publications, often collaborating with world-renowned scholars.
One of Dr. Zhu's research projects is the intelligent control of very-large-scale robotics, including unmanned aerial vehicles (UAV), unmanned ground vehicles (UGV), and underwater unmanned vehicles (UUV). Unlike the traditional control approach, Dr. Zhu's research has applied the probability density function (PDF) of multiple agents to represent the whole robotic system's macroscopic state, instead of an individual robot.  Further, he has proposed a novel framework of multi-agent reinforcement learning (MARL) approach in the probability space and is developing several different intelligent control approaches.
Dr. Zhu  has been working with students to provide opportunities for research and publication at the top-level journals and conferences. Please feel free to contact Dr. Pingping Zhu (zhup@marshall.edu) if you would like more information or are interested in participating in his research.