Take online classes in high school & be part of the Herd!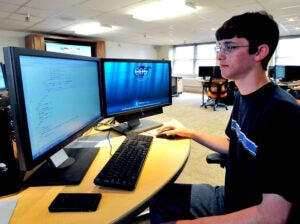 Online courses at Marshall University are taught in Blackboard Learn, our online teaching and learning platform. Blackboard can be accessed through the myMU student portal. Online courses are taught asynchronously meaning you can complete your coursework at the times of day that best fit with your high school and extracurricular schedule as well as your work habits. You will engage with college-level students in courses that count toward most undergraduate degree programs at Marshall University. Take advantage of a wide variety of courses and a reduced-rate tuition while learning valuable skills that will lead to academic success beyond high school.
What online courses are available to high school students?
Qualified high school students may take two online courses per college term and students may also take a combination of dual credit and online college courses.  Course descriptions are available in our undergraduate catalog. Please note that some available courses may be restricted to regularly admitted Marshall students (FYS 100, ENG 204 and others) or may require completion of a prerequisite course.
Summer 2023 Online Course List
Fall 2023 Online Course List
Note:  This list is a dynamic list and will change based upon seat availability.  If you are interested in a course that is not on this list, please email Michelle Biggs at miller138@marshall.edu with a request to check availability.  Please include your full name and your Marshall ID number.
HIGHLIGHTED COURSES:
CFS 200 Introduction to Computer Forensics and Security – This course teaches students how information is recovered from electronic devices and the forensic techniques used to perform forensic examinations. In addition, legal issues regarding electronic data will be discussed.  For more information about Marshall's Cyber Forensics and Security Program, visit this page.
STHM 250 Introduction to Sport Management – The student will gain knowledge in sport management and with multiple emphases including professional, collegiate, and recreational sports.  If this course does not appear on the course listing linked above, please contact Sherri Stepp at goodall@marshall.edu.  Some reserved seats may still be available.
Interested in music?  Check out MUS 101 Basic Musicianship – The study of music fundamentals and aural skills including: notation, key signatures, scales, intervals, and triads and aural recognition of meter, scales, intervals, and triads. Online section open to non-music majors.
What is the admission process?
See the information on our Apply Now page.
What is the cost of taking college courses while in high school?
For the summer or fall 2023 term, dual credit or online tuition is $25 per credit hour for in-state students and $75 a credit hour for out of state students and most courses for high school students are 3 credit hours. For early admission West Virginia residents, on-campus classes are $145 per credit hour. Tuition can be paid for online and on-campus courses through the Office of the Bursar at Marshall. Information is available at our How to Pay page. Dual credit students make payments directly to their high schools or county school boards.
Application and Registration Deadlines
Online dual enrollment courses are regular Marshall University online courses taught by our faculty. Application and registration deadlines coincide with our academic calendar. This means the admissions process should be completed prior to the start date of each term. Registration will be based on seat availability. If you are planning to take an online course in one of our summer terms, you should apply as soon as possible. For any summer term that begins after your high school graduation date, you will need to apply for freshman (first-year) admission.
Term
Dates
Application
Registration
Summer 2023
March 20, 2023 – July 10, 2023
May 5, 2023
March 27, 2023
Are you ready to get started?
Speak with a Marshall staff member to discuss your options. Contact information is available here. School counselors can send your letter of recommendation and high school transcripts to admissions@marshall.edu after you let them know you have submitted your admissions application.
If you're ready, you can apply now!
After receiving your admissions letter, course registration requests can be submitted online.
Info on Summer 2023 courses
Please note: Registration for currently enrolled high school students will not begin until March 20, 2023. Registration for new high school students will begin on March 27, 2023. Courses are available on a first-come, first served basis. Admissions applications for Summer 2023 and Fall 2023 can be submitted now.