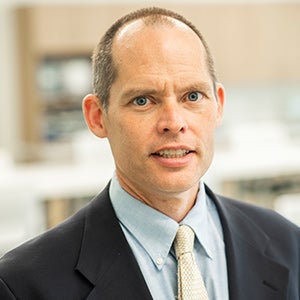 Professor and Chair, Department of Pharmaceutical Science and Research
Office:  SKH 355
Phone 304-696-7289
rorabaughb@marshall.edu
Biography
Dr. Rorabaugh received his B.S in Biology from Mount Vernon Nazarene University followed by a M.S. in Biological Sciences from Bowling Green State University and a Ph.D. in Pharmacology from Creighton University.  He subsequently completed a postdoctoral research fellowship in the Department of Molecular Cardiology at the Cleveland Clinic Foundation's Lerner Research Institute.  Dr. Rorabaugh taught at the Ohio Northern University College of Pharmacy for 15 years prior to joining the Marshall University School of Pharmacy in 2019 as Professor and Chair of the Department of Pharmaceutical Science and Research.
Research
Work in Dr. Rorabaugh's laboratory centers around myocardial ischemic injury, and he has had NIH funding almost continuously since 2010. His current work is focused on understanding the impact of methamphetamine on the ischemic heart.  Studies from his laboratory have demonstrated that exposure to methamphetamine during the prenatal period causes the heart to become hypersensitive to ischemic injury during adulthood.  His laboratory is currently working to identify the mechanism by which this occurs.
Dr. Rorabaugh recently completed a NIH-funded project that investigated the impact of an animal model of post-traumatic stress disorder (PTSD) on the ischemic heart.  His work demonstrated that rats exposed to a predator-based model of PTSD develop myocardial hypersensitivity to ischemia. Hearts from these animals also develop lesions that are characterized by necrosis, inflammation, collagen deposition, and changes in cardiac gene expression that are indicative of cardiac remodeling.  These changes may underlie the fact that people that have PTSD and other forms of chronic stress are at increased risk of myocardial infarction, arrhythmias, and other cardiac disorders.
He has also made contributions to our understanding of the function of regulator of G protein signaling (RGS) proteins in the heart. Work in Dr. Rorabaugh's laboratory demonstrated that inhibition of interactions between RGS proteins and Gαi2 protect the heart from ischemic injury and that expression of RGS6 protects the heart from ischemic injury.  These studies suggest that RGS proteins may provide new therapeutic targets for the treatment of ischemic heart disease.  In addition to the heart, Dr. Rorabaugh has also investigated the role of RGS2 and RGS4 in the neurobiology of addiction.  His work (in collaboration with Dr. Manoranjan D'Souza) indicates that RGS2 and RGS4 are involved in modulating addiction to cocaine and nicotine.
Publications
https://www.ncbi.nlm.nih.gov/myncbi/16SHcfcWo3I/bibliography/public/
Teaching Interests
Dr. Rorabaugh's favorite teaching areas include cardiovascular pharmacology, autonomic pharmacology, signal transduction, and receptor pharmacodynamics.
Professional Affiliations
Dr. Rorabaugh is a member of the American Heart Association and the American Society for Pharmacology and Experimental Therapeutics.  He has served on study sections for both the AHA and the NIH.