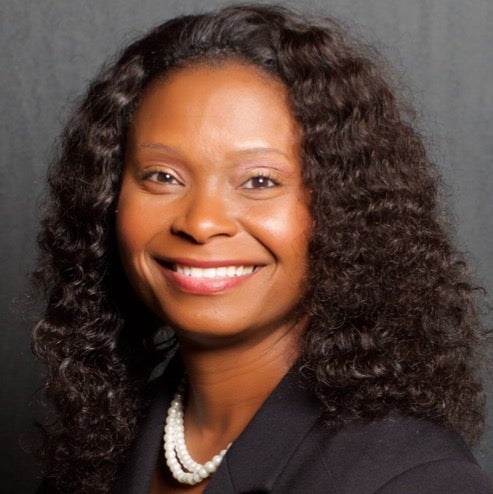 SKH 343
304-696-7363
Biography
Dr. Jones received her B.S. in Biology with a minor in Chemistry and Ph.D. in Pharmaceutical Sciences with a concentration in Pharmaceutics from Florida Agricultural & Mechanical University (FAMU). Dr. Jones' research examined the cellular and molecular effects of transition metal drug complexes on acute lymphocytic leukemia. Her research efforts resulted in numerous presentations at regional and nationally recognized research forums. In addition to her research and teaching appointments, she also served as President of the FAMU Chapter of the American Association of Pharmaceutical Scientists (AAPS). Under her leadership, the Chapter received an award for outstanding programming and was awarded AAPS Chapter of the Year. Dr. Jones joined the Department of Biological Sciences at FAMU as an Instructor of Biology from 2006 to 2012 where she taught general biology to science and non-science majors. From 2012 to 2014 she held the position of Visiting Assistant Professor of Biology, where she continued to teach general biology courses.
Dr. Jones' research interest is in metabolic disorders that lead to obesity and Type 2 Diabetes. Specifically, her focus is on the effects of fructose on adipokines expression and secretion from adipose tissue as it relates to insulin resistance. Understanding the role fructose plays in the metabolic processes of adipokines could lead to the discovery of novel drug targets to overcome insulin resistance for treatment of obesity and Type 2 Diabetes.
Dr. Jones holds memberships in professional, scientific and civic organizations. She is a member of the American Association of Pharmaceutical Scientists (AAPS), The Science Advisory Board, American Association for the Advancement of Science (AAAS), American Association of University Women (AAUW), NAACP and Delta Sigma Theta Sorority, Inc.
B.S. in Biology with a minor in Chemistry - Florida Agricultural & Mechanical University (FAMU)
Ph.D. in Pharmaceutical Sciences with a concentration in Pharmaceutics - Florida Agricultural & Mechanical University (FAMU)