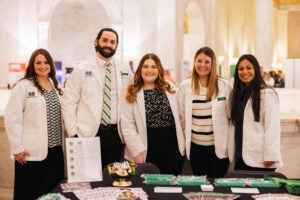 MUSOP School Calendar
The School of Pharmacy has a collective calendar of important dates that include ceremonies, exams and additional information.
Student Feedback Form
Great Ideas Start Here… Comments, kudos, suggestions, or concerns are welcome!
The student feedback form is anonymous unless the name/number fields are filled out. Submissions go to Assistant Dean Terri Moran in the Office of Student Affairs and are distributed as needed.
Student Support Services
Through academic counseling and personal support, the Office of Student Affairs strives to assist students in their adjustment to academic life. Staff in the Office of Student Affairs are here to listen and talk through challenges students may face, whether they be academic, social or personal, and provide outreach to students who are struggling with academics and attendance in order to assist them in getting back on track. The Office of Student Affairs provides students with a full spectrum of academic support beginning with first semester mentoring and continuing through graduation by offering a variety of services including the following.
Student Advisory Program
During the P1 year students receive a combination of academic advising from the director of progressions and professional advising from their assigned faculty advisor. Once a student reaches their P2 year, they transition to working primarily with their faculty advisor, although the director of progressions is always available to assist students as needed.  Students are encouraged to meet with their advisors periodically, at least once a semester, to discuss academic, personal, career and professional goals.
Grade Watch Program
The Grade Watch Program is a partnership between students, the director of progressions, and faculty advisors who work together to recognize potential academic problems in specific courses or with individual student progression. The team surveys student achievement and takes immediate and appropriate corrective action when a student deficiency is identified by an academic alert and develops strategies to improve student achievement and retention.
Benefits of the activities of the Grade Watch Program are:
Potential problems may be detected earlier in the semester, allowing time to devise and implement strategies to keep a student on track.
Constant monitoring of each student's academic progression may help to develop a strategy for improving the academic performance of students with deficiencies.
Self-directed learning skills can be enhanced in students who may need it.
Counseling Services Referral
The School of Pharmacy partners with the Counseling Center on the main campus. This is a free and confidential service to our students so that they can maximally benefit from their educational environment and continue to succeed in the lifelong task of their career development.
Pre-Health Science House LLC
Living learning communities (LLC) are interest or academic-based and help you make friends in your major, get to know faculty, and help you achieve academic success. Theme housing offers opportunities to explore campus involvement and leadership but is not related to a specific college or major. The Pre-Health Science House will provide undergraduate students the opportunity to engage with a community of other students planning to pursue advanced degrees in the following concentrations:  Dentistry, Medicine, Pharmacy, Physical Therapy, Physician Assistant, and Veterinary studies.  Pre-Health Science House residents can form study groups; share common core science classes; and develop a support system of faculty, staff, and peers.
Wellness Program
The student wellness program is overseen by faculty and student wellness ambassadors from each of the student classes. Efforts here include the development and distribution of wellness materials, the scheduling of wellness events / activities and a monthly newsletter that provides information regarding nutrition, exercise, student stress, time management and other wellness related topics.
Co-curricular Activities
Co-curricular refers to activities and learning experiences that occur outside the requirements of the didactic and experiential curriculum that complement, augment, and/or advance the students' learning and professional development to meet the established learning outcomes.
The co-curriculum consists of required and self-selected activities that enhance student development related to the knowledge, skills, abilities, and attitudes associated with direct patient care, cultural competency, effective communication, self-awareness/development, leadership, innovation and entrepreneurship, professionalism, and service to others, including service as citizens in a global society. The co-curriculum also encourages students to participate in self-directed and lifelong learning through professional development requirements developed by each student.
Career Planning
The college provides several career and professional development opportunities to student pharmacists. These include, but are not limited to, the following:
Job Fair
Announcements for available internship, rotation, and fellowship opportunities
Classroom and group activities that provide information on academic success, personal assessment, job searches, career exploration, and transitioning into the practice of pharmacy.
Diversity and Inclusion
The Marshall University School of Pharmacy Office of Diversity and Inclusion understands that research on gender, race, ethnicity, and other components of diversity such as sexual orientation or religion, impact how patients receive, interpret, and act on health information. Marshall University School of Pharmacy celebrates our common goal of service to humanity and promoting diverse perspectives. We continually work to ensure our students are ready to interact with the world around them, beginning in our classrooms with a goal of graduating culturally-competent students who are prepared to be leaders and innovators in pharmacy and the rapidly changing world. Efforts in this office include:
Advisory Council on Diversity and Inclusion
Excellence in Diversity Awards
Health Care Pathways Initiative
Student Organizations
There are multiple professional student organizations at the Marshall University School of Pharmacy, with opportunities for serving the community, growing in your personal faith, professional networking, and social and collaborative learning. Marshall University pharmacy students take advantage of a wide variety of professional student organizations that are affiliated with national pharmacy associations. Getting involved allows for networking with faculty, classmates, pharmacists and pharmacy students from across the country.
A list of current student organizations is available on this site.
Ambassador Program
The MUSOP student ambassador program is comprised of outstanding representatives of the school's student body who assist the Office of Student Affairs at interview days, special events and meetings throughout the year.
Pharm.D. Honors Research Track Certificate Program
This track is designed to provide exceptional students in the School of Pharmacy with in-depth training and experience in research relevant to the Pharm.D. curriculum. Eligible students will develop and execute a research project with a MUSOP faculty research advisor. Students who successfully complete this program will be honored with special recognition at graduation and on their transcript.
School of Pharmacy Research Opportunities
Students at the Marshall University School of Pharmacy have numerous opportunities to contribute to real-world experiments helmed by world-class practitioners and researchers. Students can contribute to cutting-edge research while learning modern techniques that will accompany them throughout their professions in the pharmaceutical sciences. Numerous potential opportunities exist in educational, practice-based, and bench research.  Please visit our research page for details.
Rho Chi Tutoring Services
School of Pharmacy students (P1-P3) can request individual or small group peer tutoring as needed. Rho Chi tutors assist students in improving subject knowledge, while developing academic skills and strategies. Peer tutors are faculty-recommended students with excellent academic records and have earned an "A" in the course in which they tutor.
TutorWV Tutoring Services
Effective November 1, 2023, West Virginia Governor Jim Justice announced a free tutoring service available to West Virginians at all ages and stages. Please visit TutorWV.com for more information.
Helpful Links
ELVIS Login
Access ELVIS, the Marshall University School of Pharmacy's student and preceptor resource portal.
Don't know your Username/Password?
Complaints
Procedures and information for submitting a complaint to the Accreditation Council for Pharmacy Education are available at: https://www.acpe-accredit.org/complaints/