Second day in sunny Orlando, and second and last day at ASHA for the Marshall CD department! Without further ado, here are some of the highlights!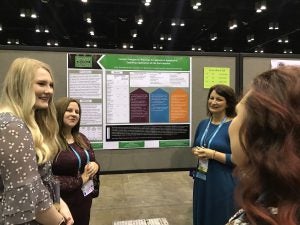 Dr. Kelly Rutherford, together with second year Master's students Erin Boone, Marina Saunders (left) and Cassidy Forth (center), presented a poster titled: "Practices for Aphasia in Appalachia: Exploring Implementation of Life Participation Principles." The study examined goal writing and therapy implementation trends of SLPs in Appalachia serving persons with Aphasia.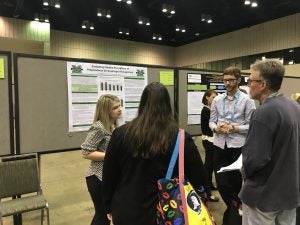 Later, Professor Sarah Clemins (left) and second year Master's student Logan Payton (right) presented the poster: "Evaluating Student Perception of Preparedness for Dysphagia Management." The poster addressed a common challenge facing communication disorder departments: finding the best way to educate students in the classroom about swallowing in preparation for medical clinical practicums.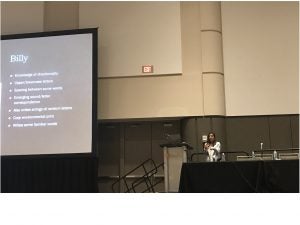 Lastly, Dr. Jamie Maxwell gave a seminar titled: "Using Writing to Facilitate Socialization in School-Aged Children with Autism Spectrum Disorders." The seminar explored how SLPs can employ meaning-based writing activities to simultaneously address literacy and socialization objectives in therapeutic contexts with children with ASD.
Recent Releases