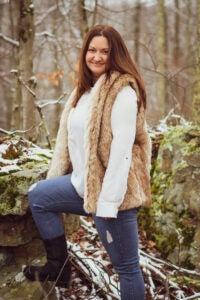 Erin Browning, M.A., CCC-SLP earned her BA and MA from the Marshall University Communication Disorders program. Additionally, she is a certified Ayurvedic Health Counselor (2019).
Currently, Erin works as a staff SLP at Davis Medical Center in Elkins, WV. On a daily basis, she works with inpatient and outpatient clients serving their medical needs, as well as "assisting the individual as a whole person." Erin commented that she has worked in a variety of settings, from long term care to pediatric outpatient. She stated, "Many people specialize in a disorder, a population, but my calling is to move beyond the pathology and into treating the person. I am a people therapist."
In addition to her work as a staff SLP, she also provides services as a Breathwork Facilitator & Health Counselor-Ayurvedically Inspired. There she sees clients one-on-one virtually, working with them to settle their nervous system through breathing and lifestyle changes. Erin commented, "Once I discovered the potency of these modalities, I knew I could apply my knowledge I had as an SLP to these emerging sciences (although Ayurveda is ancient – not emerging) and facilitate change for people who had needs beyond communication disorders."
In addition to her dedication to her clients, she serves as the President of the WV Board of Examiners of SLP & Audiology and as West Virginia's SLP representative for ASHA's Committee of Ambassador (COA) Program. As the board's president, she fills the crucial role of protecting consumers. She notes that seldom, individuals would want the role she fills; however, it is absolutely necessary. Erin stated, "Our most vulnerable people, those who can't communicate effectively, hear with ease, or eat are at risk if we as providers don't live up to the highest standards set forth by our professional code or ethics." She also has that same passion for representation of needs and services in rural WV. As COA, Erin is a leader of change in systems and protecting individuals who receive SLP services. She acts as a liaison between ASHA and our legislators, and relays specific concerns and advocacy needs in our great state.
When asked what inspired her to become a SLP, Erin's story is as inspirational as they come. She stated, "I learned about the profession in high school drama class. I was in a play that had a character with autism. Myself and another student left school one day to observe a student on the spectrum…character study. I was taken by the interaction with the SLP and felt she was doing a good service." Erin initially had intentions of becoming an audiologist; however, as she studied in undergrad, she found it may not meet her calling for connecting and communicating. She noted that her career path has not been a traditional one by any means. Erin explained, "I always believe there is a broader impact, hence, developing CE courses early on in my career, then branching out into breath-work and more holistic healing as a totally separate practice."
Erin stated that MUCD prepared her for her career by placing a strong emphasis on critical thinking. MUCD equipped her with the confidence to go beyond the standard of a practicing clinician.