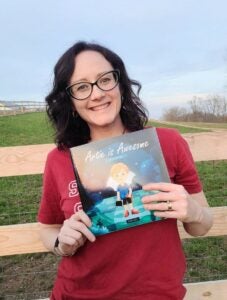 Deidra Darst, M.S. CCC-SLP of Kenna, WV is using her expertise and experience as a mother to someone with autism for advocacy across the state and nation.
Deidra attended Marshall University and received a Bachelor of Science in Communication Disorders in 2008 and a Master of Science in Communication Disorders in 2010. Practicing for 11 years, she has worked in private practice and early intervention with WV Birth to Three. She is currently in her fourth year as a preschool/elementary SLP in Jackson County Schools.
Deidra has a different perspective than many other SLPs. She says, "My younger son, Colin, was diagnosed with autism at the age of three. For so long, I thought that I should be able to fix all of his delays and differences. I felt like I was failing him as an SLP and as his mom. One day, I realized that I'm only human, and I couldn't do it alone. That's when I called in Birth-To-Three and his 'official' introduction to therapy began."
When asked how her expertise influenced her as a mother, she said that she believes her education and background in communication disorders and childhood development really helped her see Colin's need for intervention early on. She explained, "Being a therapist also has its perks: everyone I worked with is a therapist of some kind (SLP, OT, PT, music therapist)!! Having these people in life has been instrumental in getting Colin the help he needed."
Using her knowledge, Deidra was able to find Colin the help he needed. "Colin started Applied Behavior Analysis (ABA) just before his fourth birthday. Back then, he was completely nonverbal, several years behind in all areas of development, he couldn't leave our home (transitions were so difficult for him), and he was angry and frustrated. I felt like I was drowning. He just turned seven years old, and I can say, without a doubt, that ABA has changed the trajectory of his life. He started using an AAC device at four, and today is speaking. He can read, loves to travel, and is wonderful at following directions. He enjoys playing with his brother, loves Sesame Street and rainbows, and is pure joy."
Deidra states that being Colin's mom changed her as a therapist and as a person in general. He has taught her to step back and see the whole picture. She says, "Different is beautiful. Our kids don't need to be 'fixed' because they are not broken – they just need the right supports to be in place. I have learned that, as parents and professionals, we all need to set aside any differences and work together as a team, because our children deserve that."
When thinking of the future, her hope for Colin is that he be happy. "I will work the rest of my life to assure that he can live his best life. I know that he will change the world someday because he has already changed mine."
Deidra is using her experience as an SLP and mother for advocacy. She is currently a board member with a local nonprofit in Hurricane, WV called "Community Autism Resources & Education Systems- CARES." They are striving to build the world as it should be for WV families affected by autism. They help provide parental and professional resources, strive to end the isolation that special needs parents feel, and are working diligently to improve access to ABA in the state of West Virginia.
In addition to being a board member at CARES, Deidra is also involved with other groups. She is on the WV Advisory Council for the Education of Exceptional Children. She is a blog editor for the nonprofit Labeled and Loved, a group for special needs moms by special needs moms. Deidra enjoys writing and has been featured on several blogs and websites such as "Her View From Home," "The Mighty," "Today Parenting Team," and "Finding Cooper's Voice."  She also has a website, The SLP Mom, that she just recently stopped maintaining. Deidra has had two articles published in the ASHA Leader, one about autism and another about AAC. She has also been a guest on several autism-related podcasts, including "Turn Autism Around" with Dr. Mary Barbera, PhD, RN, BCBA-D, "ABA Speech" with Rose Griffin, MS,CCC-SLP/BCBA, and "Adventures in Autism." Deidra was the Executive Director of the nonprofit Mountaineer Autism Project (MAP) in 2018-2019.
Deidra wrote a children's book in 2018 called, "Artie is Awesome." Artie teaches children about autism using words they can understand. This rhyming book also introduces AAC use and promotes self-love and acceptance of those who might be different from us. It can be found on Amazon. She also has a Teachers Pay Teachers (TpT) site with materials to accompany "Artie." She stated, "I have aspirations to write more books, but I've been a bit busy the last few months.
When talking about her education and training the Marshall University Department of Communication Disorders, she said, "I would say that MUCD prepared me, giving me the knowledge I needed to do my job, but also a desire to always grow and learn. I can't know everything, but I CAN go in search of new information/help when I need it."