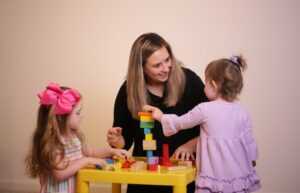 Lacey Back Lane completed her undergraduate studies in Communication Disorders from Eastern Kentucky University, and received a Master of Science degree in Communication Disorders from Marshall University. Additionally, she holds a Rank I from Marshall University. Lacey is currently a Strategies Consultant for the Kentucky Educational Development Corporation, through which she has provided educational support services to school districts throughout Kentucky for 6 years.
Most recently, Lacey stepped into her new leadership role on the Kentucky Speech-Language-Hearing Association Board (KSHA) as Immediate Past President. She previously served as President in 2019, and has served in the roles of Vice President of Schools and Secretary. Lacey credited the opportunity to serve in a leadership role on the KSHA board as allowing her to engage and learn from some of the best and brightest in the field of speech-language pathology at the state and national levels. She said, "During my time as President, our team saw growth in advocacy and communication. We introduced initiatives such as the Kentucky Advocacy Network, and the Empowerment Zone at (KSHA) Convention, and saw the introduction of our newly updated online magazine, 'The Communicator.'"
Lacey believes that involvement in your state association is vital. She stated, "Nothing has solidified this more than our current situation in the pandemic. Without the State Association's advocacy efforts to educate our state leaders, the essential work of audiologists and SLPs would have been much more difficult. I encourage all audiologists and SLPs to join their state associations because the work they do goes far beyond professional development. Get involved. No matter how big or how small, it will make an impact on your profession and those you serve!"
When discussing the upcoming school year and the challenges it may present, Lacey encourages school-based professionals to see this as an opportunity instead of a challenge. "One thing my leadership role taught me is that audiologists and SLPs are very innovative and creative professionals. The experience of serving students virtually is going to be a new opportunity. I am sure we are going to rise to the occasion and see some amazing therapy taking place online. This is going to be a great time for us to build strong teams around our students because we are going to get to engage with caregivers and service providers much more. Our start to the school year is going to be amazing – we just have to be flexible and make the best of the situation. I know we will!"
Lacey says her time at Marshall University prepared her not only academically, but for her leadership roles. "The professors and clinical supervisors often challenged me to step outside of my comfort zone, and these opportunities led to experiences and personal connections I could have never imagined. My time at Marshall University made me a better clinician and person. The courage and confidence I found in myself at Marshall has taken me further than I could have ever imagined."
Lacey resides in Mt. Sterling, Kentucky with her husband, Justin, and her two children, Kollyns and Kroy.