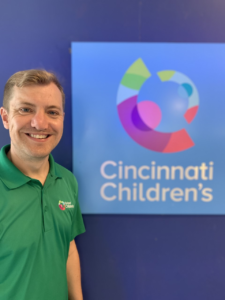 John Fredeking graduated with his Bachelor of Science (2011) and Master of Science (2013) in Communication Disorders (CD) from Marshall University. Upon graduation, he accepted a job at Cincinnati Children's Hospital Medical Center (CCHMC) in the Division of Speech-Language Pathology as an outpatient speech therapist.
John was born with a unilateral cleft lip and complete cleft palate. As a result, he underwent many reconstructive surgeries, as well as speech therapy for speech sound production. This was one of the reasons John wanted to become a speech therapist. "I know what it's like to be on both sides of the therapy table," he states. He often tells his patients and families that he was once in speech therapy and that, "with hard work speech can improve." He especially loves when he works with a patient who has had a cleft lip and/or palate. Seeing their successes is a feeling that can't be matched by any other. He says, "I hope that my successes offer the family hope for their child's speech and communication."
The second reason John wanted to become a speech therapist was because of his singing and vocal background. "I have always been a singer and I knew that speech pathologists can evaluate and treat voice disorders." He is an active member of the Center for Pediatric Voice Disorders at CCHMC where he is part of an interdisciplinary team who evaluate patients with voice disorders. John established the Gender Spectrum Voice Clinic in 2017, where he helps those on the gender spectrum modify their voice. John is a singer who is classically trained and takes weekly voice lessons.
John attributes his time at Marshall, especially his experience in the voice module his first year of graduate school, as a great foundation as speech therapist. "My time in the CD program is one filled with exceptional mentors, great friends, and coming from a program with a reputation of producing competent and confident speech-language pathologists."