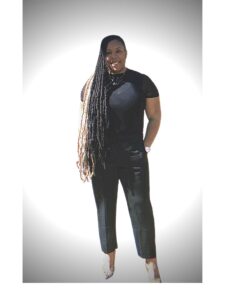 Kristin Spivey, EdS CCC-SLP, earned her Bachelors (2004) and Master's (2006) degree from the Marshall University Communication Disorders program.
Since then, she has continued to further her education by gaining her education specialist (EdS) degree (2014) in Early Childhood Special Education and Educational Administration from the University of Nebraska-Lincoln. She will soon have a Ph.D. in Literacy from St. John's University in 2022.
Currently, Kristin works as a school based SLP at Two Rivers Public Charter School in Washington, DC. She is also the founder and operator of Chatterbox, PLLC, a small practice that provides SLP services for short term and long-term contracts with local charter schools, clinical fellowship year (CFY) supervision, and professional development.
In addition to her work experience as a school based SLP, Kristin has worked in various settings including private practice, nursing homes, home health, local universities as a clinical supervisor, and as a Special Education Coordinator within the school system. Her impressive resume demonstrates the passion she has for others, whether this is for those in need of her services or who learn from her valuable clinical judgment.
Kristin has been a crucial member of her community by advocating for literacy programs and the advancement of education within her school system. One area she has focused on is establishing and curating relationships with local charter schools to provide Tier II language-based literacy interventions to prekindergarten, second, and fourth grade students.
Kristin's passion for the development of graduate students and clinical fellowship students has also been an area with great importance to her. She stated, "While working in the schools, I loved having student interns. They were always so eager and excited and had great therapy ideas. I kind of fell into university based clinical instruction while I was looking for a more flexible position as my daughter was entering Kindergarten." As she continued to provide her mentorship to graduate students and CFYs, she found that while working with young, motivated, and inspirational SLPs, she herself gained insight and experience on a different level. She explained, "Graduate students and early career SLPs have taught me the most about the importance of understanding and embracing your story, understanding what drives you to be a SLP, and leveraging vulnerability in order to build empathy while servicing clients. Graduate students and early career SLPs force me to dig deeper as a clinician and learner as I facilitate their learning. They have taught me the most about myself as a human, mother, scholar, and friend."
When asked what inspired Kristin to further her education at a doctorate level and how becoming a Language and Literacy Expert influences her goals as a SLP, she said, "After becoming a mom, I was intrigued with how my daughter acquired reading. It was always inspiring when I would see her make connections during reading related to experiences in the world or watching her play and using her language to develop narrative and expansive scripts and characters. In 2011, I started working with upper elementary and middle school students. I was struggling to make clear connections between SLP assessments and classroom performance. After spending more time in classrooms, I was able to make some connections but some things still were a challenge. In 2014, I started working with a dynamic ELA (English Language Arts) team that included administration, gen ed teachers and special education teachers. I learned an abundance of information about curriculum, instruction, and assessment. Here is where I was able to really start to draw connections in higher level language and middle grades literacy."
A few years later in 2018, Kristin had the opportunity to return to school and pursue her doctorate degree. She said, "While working at the university level, I completed some small research projects, had an opportunity to present at ASHA, and wanted to continue to develop skills in research and implementation. My research interests focus on how SLPs can support at-risk students through the design and implementation of Tier II interventions that focus on language and literacy. My knowledge in literacy and language help me advocate for students who are culturally and linguistically diverse in supporting school based teams in identifying students with language disorders. Additionally, my literacy knowledge allows me to understand gaps in the general education instructional programming that may contribute to students performing low on language and curriculum assessments."
Finally, when asked how MUCD prepared her for her career, Kristin gave praise to the program's ability to equip her with the skills to utilize her critical thinking abilities to identify underlying language issues and use reasoning to determine client needs and impact of treatment. There were several special faculty members that she expressed gratitude for. She stated, "Karen McComas was the most instrumental in my graduate level phonology course in teaching what we now call EBP. She consistently challenged us to ensure that we understood theory, assessment, treatment targets, and data collection to ensure that we were making appropriate and efficient decisions for our clients. Loukia Dixon is most responsible for my growth in clinical writing. I spent endless hours writing and rewriting treatment plans and SOAP notes to make sure my writing was specific and clear. She also invested time in one-on-one meetings to make sure every comma was placed correctly." In addition, she jokingly stated, "In graduate school, I would have called home and complained about both professors. But as a professional, I appreciate the intentional pushes."
On a personal level, Kristin has a 10-year-old daughter and 2-year-old morkie/shih tzu puppy that she loves dearly. Her daughter is an absolute Harry Styles and Hamilton stan who Kristin stated treats "her entire life [as] a stage and sparkling is [her] full time job."