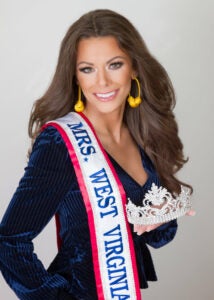 The October 2020 spotlight was on Katrina Kappen, a speech-language pathologist and MUCD alumna who was crowned Mrs. West Virginia America 2020, using her platform to educate and spread awareness of Alzheimer's disease.
Katrina Kappen received a Bachelor's Degree in Education from Concord University in 2009 and a Master's Degree in Communication Disorders in 2014 from Marshall University. As a former kindergarten teacher, Katrina always assumed that she would work with pediatric populations, however, those plans changed when she worked her first rotation with adults.  She stated, "I worked with a gentleman who had a stroke and could no longer swallow, requiring a feeding tube. I worked with him until he was able to consume food and liquid again safely. I'll never forget running back to Mrs. Beverly Miller's office (my neurology/dysphagia professor), bawling my eyes out because, for the first time, I saw real progress in something that I was doing. Seeing the impact on that gentleman's quality of life through something as simple as being able to eat and drink is what changed my career path entirely. It was at that moment I knew I was where I was supposed to be." Since then, Katrina has found her calling working in a skilled-nursing facility and as a clinical fellowship mentor for recent speech-language pathology graduates. In addition to her thriving career, Katrina is highly passionate about pageantry.
As a young girl, Katrina grew up competing in the West Virginia Fairs and Festivals system. She loves what pageantry symbolizes, explaining that it "is so much more than wearing a sash and a crown. It promotes community service, giving to others, and helps build strong independent women." When she decided to compete for Mrs. West Virginia America, Katrina followed the system for six years, learning and preparing. She worked daily honing her craft, until she felt prepared to compete for the Mrs. West Virginia title. She now represents the beautiful state of WV and is looking forward to bringing home the crown as Mrs. America this winter!
Katrina's platform was Alzheimer's awareness and research, which is a cause that affects her in many ways. She explained, "My granny is currently fighting her own battle with Alzheimer's disease, and I have watched it strip her of her independence daily. My husband lost his grandpa to it, and I work with it every day in the nursing home." Katrina acknowledges that most people are aware of Alzheimer's, yet many do not realize the impact it can have on one's life until they are personally impacted by it. Katrina proudly states that "My sole purpose of being involved is on behalf of my granny. To help her fight her battle while raising awareness of the issue in hopes of a future world without Alzheimer's."
Katrina thanks Marshall for providing her with challenging courses that advanced her critical thinking skills, well-rounded clinical rotations, and giving her the education to provide information to the public regarding her platform. She says, "The knowledge and experience I bring from my education and personal life allow me to disseminate information on Alzheimer's disease accurately and make deeper connections with these individuals and their families."
She also credits her wonderful family and husband as her biggest support system. She boasts about their ability to support and encourage her to chase her dreams. Katrina says, "I feel stronger than ever with such loving people in my life, I am ready to take on more significant challenges with them by my side."
Due to COVID-19, many of Katrina's events as Mrs. West Virginia were cancelled.  Instead, she found herself on a tour of West Virginia, visiting and highlighting some of its most beloved travel destinations and hidden treasures. Though her reign is now over, she hopes to continue to be an amazing advocate for the state of West Virginia, while spreading education and awareness of Alzheimer's disease.
Katrina competed in the Mrs. America pageant in March 2021 and was voted Most Photogenic, making both West Virginia and the MUCD Department very proud.