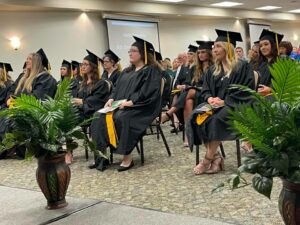 The Department of Communication Disorders at Marshall University (MUCD) held its annual hooding ceremony for the Master of Science in Communication Disorders Class of 2021 on Saturday, August 7, 2021 in the Memorial Student Center.  Thirty-four graduates were joined by family and friends as they were presented awards, well wishes, and were hooded by a faculty member of their choosing.
When addressing the class of 2021 and those in attendance, MUCD Department Chair and Graduate Program Director Pam Holland stated, "Perseverance, collaboration, dedication, passion, and resilience are the traits that I would use to describe this class," due to their tenacity in completing the program when challenged by a world pandemic and record-breaking ice storm.
The keynote speaker for the ceremony was Jaime Basham, M.S. CCC-SLP, who received her Master of Science in Communication Disorders from Marshall University in 2007 and is currently a medical student at West Virginia School of Osteopathic Medicine.  In her address, Student Dr. Basham reflected on her training at Marshall University and on her career as a speech-language pathologist.  She presented the top 10 reasons to be a speech-language pathologist and encouraged the Class of 2021 to remain passionate about wanting to change the world.  She challenged the graduates to choose the path within the field that allows them to be themselves before congratulating and applauding them for their work.
The Class of 2021 nominated classmate Hanna Taylor as their class speaker.  Hanna's theme for her address was "together," stating, "Since August 26, 2019, we have spent mornings, evenings, days, weeks, months – together.  We have supported each other through so many emotions and milestones, and what now feels like two short – or maybe they still feel kind of long – years."  After thanking the faculty and staff in the Department of Communication Disorders, she encouraged her classmates to remember the challenges they overcame during graduate school as motivation to succeed in their career.
Retiring Professor Kelly Harlow then presented the following awards: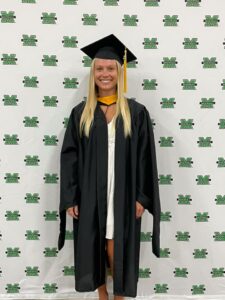 The Robert D. Olson Award for the Graduate Assistant who exhibits strong work ethic, a great attitude, and who always goes above and beyond her duties for the department was presented to Sydney Hancock.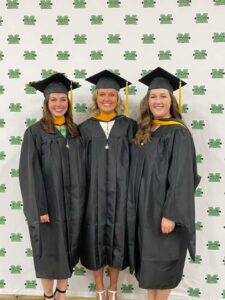 Hanna Taylor, Jillian Clemens, and Alaina Leadman received the George G. Harbold Award for maintaining a 4.0 GPA throughout graduate school.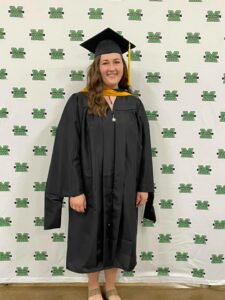 As nominated by her peers, Alaina Leadman received the Spirit of the SLP Award for exhibiting great therapeutic skill, high academic achievement, and a devotion to the field.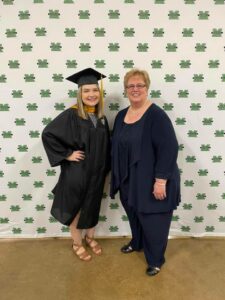 Kim Porter, M.A. CCC-SLP, a speech-language pathologist at Winfield Elementary, was named the Clinical Educator of the Year for selflessly mentoring MUCD Graduate Clinicians and for providing exemplary clinical supervision.  Like the Spirit of the SLP, this award was also nominated by the Class of 2021 and was presented by Clinic Director Sarah Clemins.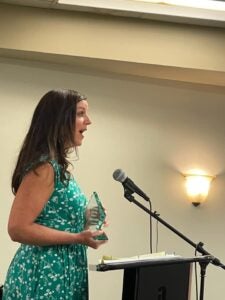 Beth Farley, M.A. CCC-SLP and COO of LinguaCare Associates presented the Kristin Parsons Memorial Scholarship to Alaina Leadman.  Kristin Parsons, alumna of MUCD, was a valued and loved employee of LinguaCare Associates who possessed a great passion for the field of speech-language pathology.  She is honored yearly through this scholarship to a Marshall University graduate student.
Once the 34 members of the graduating Class of 2021 were hooded by their chosen faculty member, the ceremony concluded with a slide show.  Congratulations to the Class of 2021!  We know you will represent the department proudly as Daughters of Marshall.