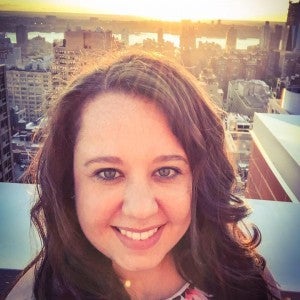 Born and raised in Charleston, WV, I made my move to New York City about six months after earning a BA in Advertising from Marshall University. I was eager to begin a career in advertising, leaping at the opportunity to gain worthwhile industry experience.My drive to jump right in to the media industry began with my Advertising Campaigns course (JMC 425) in which we entered in the National Student Advertising Competition (NSAC). This experience allowed me to apply my collective knowledge from the School of Journalism and Mass Communications to a real brand scenario for State Farm Insurance. I was fortunate enough to be a part of a wildly talented team that spent nights, weekends, and even Spring Break strategizing and producing the plan that we eventually went on to present at the National level. Between the strong direction among the professors mentoring and the motivation of the students, I enjoyed each long hour dedicated to Advertising Campaigns. This was the course that reassured me that media was the right career path for me.
Throughout my time in JMC, I truly experienced a well-rounded understanding of media and advertising. At the time, I was most interested in creative strategy. Something about resonating a message with the right audience was a challenge that I thrived upon. However, there were courses I was far less enthusiastic about, like Media Planning.
After graduation, I accepted a position with the Digital Broadcasting Group (now Defy Media) when I purchased a one-way ticket to New York. This digital advertising company focused on branded entertainment production and video distribution, and my role was none other than that of a Media Planner. Luckily I still had my books from my Media Planning courses, and you better believe they made the trip with me.
Looking back, Media Planning was the best foundation I could have had for elevating my career path. I achieved a great understanding of business economics and distribution strategy, which eventually spearheaded my career transition into Account Management. This area of the business involves working directly with media agencies and brands, overseeing creative executions, and recommending solutions for brand obstacles.
In 2013 I accepted a position at Teads, a global digital advertising technology company that powers native video ad formats in premium environments. At the time, Teads had a vast European presence but was considered a start-up in the US. Being part of the early growth stages of an ad tech company reminded me of the dedication put into Advertising Campaigns class. Similar to my experience with NSAC, at Teads I was collaborating with incredible leadership and colleagues, which again had a great impact on me.
To me, I can't imagine anything more invigorating in the media industry than working with a team of brilliant innovators in the space of new media. Digital advertising changes every day, and welcoming the new challenges allows room for constant professional growth.
When I sat in Smith Hall, room 209, and envisioned where my degree could potentially take me, I never imagined that I would one day have the opportunity to work with digital media industry leaders across the globe. The strength that lies within the JMC School is that of a community working to better one another. Because of this, I was prepared to take on roles I was less confident in, work well collaborating with teams, and understand when and why "it works" (as Professor Ingersoll taught my class). As each new challenge requires a unique approach, I find you are best set for success by being well prepared, willing to put in hard work, and working together with a resilient team.
In a digital world, do not lose focus on the human element.