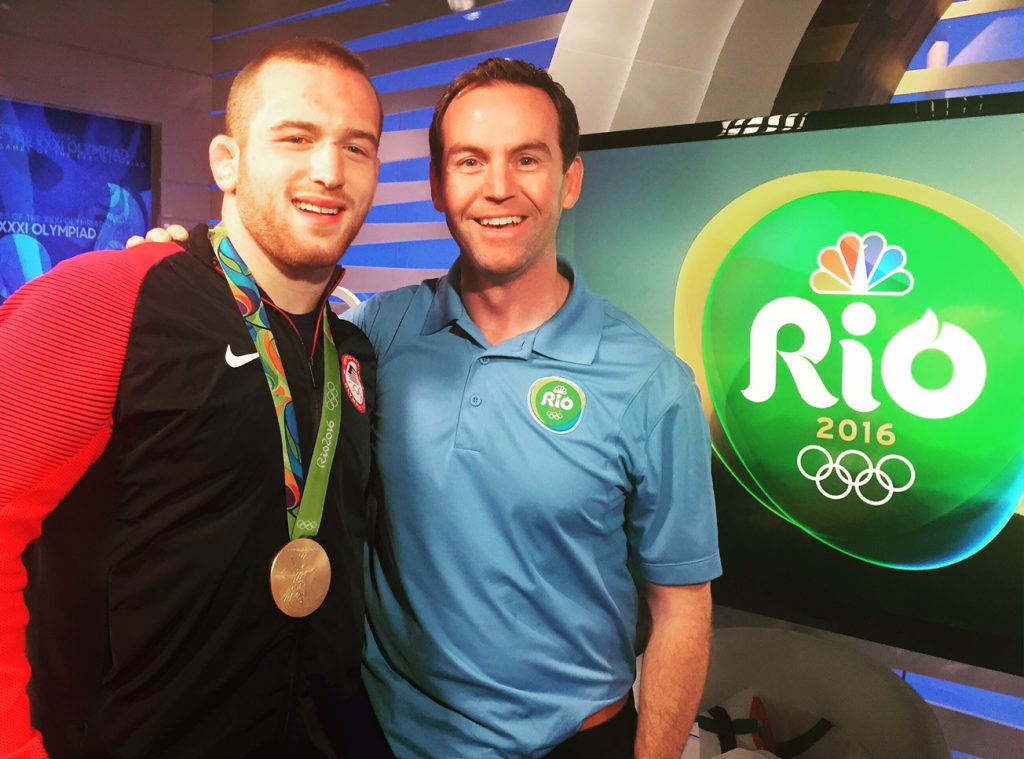 I am Marshall. From the beginning.
I was born at Cabell Huntington Hospital in February of 1979, the newborn son of Rhonda and Jerry. They met at (and graduated from) Marshall.
In 1987 my parents took me to me the first Marshall football games I could really remember. The Herd played at old Fairfield Stadium and I remember, as an 8-year-old, walking up Huntington Ave. to the stadium, hearing the crowd, the band and smelling grilled burgers and popcorn. Even then I knew I would go to school at Marshall. It was the only college I really knew, or cared about.
Obviously, my worldview expanded. But even in high school, when I had no clue what I wanted pursue professionally, I knew I'd figure it out at Marshall. And from the first time I stepped through the doors at WMUL and sat in my first JMC class, I was certain I was in the right place.
I can remember the professors like a baseball lineup. Hollis and Bailey, Arnold and Turner, Dooley and Dennison. In my four years there I listened to people who challenged me to think bigger than what I already knew. As a 22-year-old I had never traveled out of the continent or west of the Mississippi River. Telling great stories and exposing the truth cannot be done unless you are willing to leave your backyard. So I became an addict to the 2nd and 3rd floors of Smith Hall. I took morning show radio shifts and regularly closed down the computer lab (when that was really a necessity).
For four solid years.
Fourteen years after graduation day, I stood in the middle of Olympic Park in Rio de Janeiro, Brazil. It had been a lifelong dream of mine to cover an Olympic Games, and I had just walked to see the Olympic Rings in-person for the first time.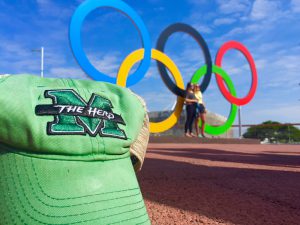 At that moment, I realized exactly how far I had come. I happened to be wearing a Marshall hat (trucker style, for extra comfort) that day and decided to take a photo of the hat in front of the rings. When people back home in Huntington saw it, they instantly reacted. Many people were making this trip with me. Many people remembered where my road started.
I've enjoyed a career better than I deserve in journalism and I plan on making a life out of it. I've spent the past dozen years in Columbus, Ohio working as the Sports Director at WCMH-TV / NBC4. While I'm less than three hours from home, I've traveled all over the country, and the world, covering extraordinary people and trying to tell their stories with the creativity and fairness they deserve.
The Olympics were the most fascinating event I've covered, mostly because it challenged me to, again, broaden my view. More than one hundred languages were spoken there. I met journalists from around the world, many of them working as government employees instead of independent observers. Some even wore their nation's official Olympic uniform. The host nation was a beautiful, yet at times, dangerous and unstable place. Despite logistical challenges, we pulled off 21 days of live coverage to my audience in Columbus and numerous other markets across the country.
Since I returned I've been peppered with questions about the Olympic experience basically anywhere I go. I am hopeful that in four years in Tokyo (or even two years for the Winter Games in South Korea) I'll get a chance to see those rings again.
And it started for me along 3rd Avenue in Huntington. Surrounded by people who pushed me to think bigger. The best way for me to show my gratitude to Marshall is to continue to do the job I was trained to do to the best of my ability. I can't wait to see what comes next.