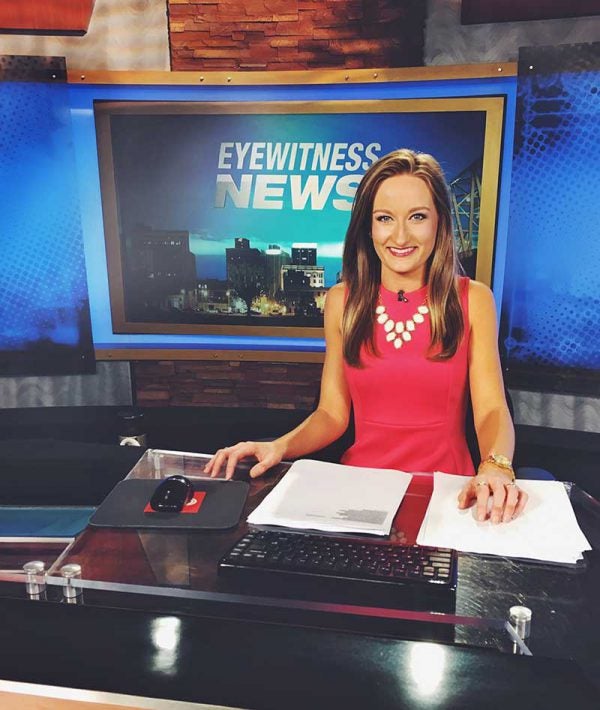 I am a proud daughter of Marshall.
Compelling, important, and true stories are all around you. Every person has one, and it's waiting to be told. Thanks to what I learned at Marshall University, I landed a job in my chosen career field and now have the ultimate privilege of finding, pursuing, and telling these stories every day. More importantly, I'm pursuing my passion and succeeding in unimaginable ways.
At 18-years-old I moved six hours away from my home in Jefferson County, West Virginia to Huntington. I was surrounded by unfamiliar faces, and it was my first time living on my own in a new place. Little did I know Huntington would become my second home and new friends would become like family.
I graduated with a dual degree in Broadcast Journalism and Public Relations, with a minor in Vocal Performance. One of my favorite things about the staff and faculty was their willingness to support my two loves of writing and music. I was involved in as many activities and programs on both sides of Smith Hall that I could possibly fit into my schedule. Professors encouraged me every step of the way.
I took my first journalism class with Professor Hollis and was hooked. I asked what more I could do to get involved. Marshall's student radio station WMUL was my first experience with broadcasting and I loved it from the start. The WMUL's news department introduced me to community-wide storytelling, sideline reporting opportunities, and on-air experiences.
Before stepping through the doors of the "j-school" I had no experience with video or editing. Looking back, I am so thankful I learned from a supportive staff who pushed me to try it. I soon learned that in the broadcast business you just have to go for it. Things will go wrong, and I've found myself making split-second decisions to get something on the air. Problem solving is one of the greatest skills I've learned. Thanks to Marshall's j-school the real life learning started early.
For three years of my college career I was lucky so be an intern with Marshall Communications. I never spent a Marshall football game in the stands; I was on the sidelines at The Joan covering all of the action. Thanks to videographer Mike Powers, I learned about shooting and covering sports. I even traveled to Florida to cover Marshall's 2014 Boca Raton Bowl game win against Northern Illinois.
My senior year I went out on a limb to try something new. I became an editor for Marshall's student newspaper, The Parthenon. This position gave me some of the most challenging, fun, and heartfelt moments I remember at Marshall. The group of editors I met at the start of the year were my family by the end. We were many times the first ones in the newsroom in the morning and the last ones out at night.
My MU Report broadcast class senior year solidified my decision to become a TV reporter. Hanna Nakano taught our class as a graduate student. I knew this was the career for me when I couldn't wait to get to class and learn everything I could. Thanks to her, MU Report was my favorite class at Marshall.
Today as a journalist at WCHS-TV I report, anchor, and produce newscasts. Days are hectic and long, but rewarding. I love when I get to cover stories about Marshall University, because every time I step on campus I still feel at home.