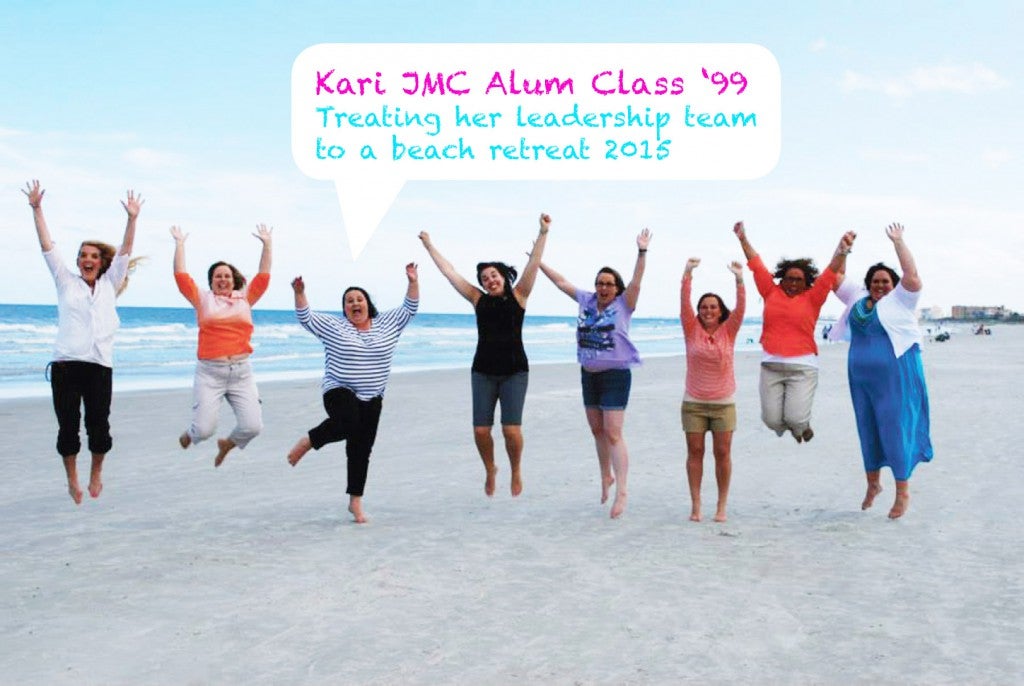 My degree in JMC empowers me to empower others. Yes, I took the typical route–enrolled at Marshall after high school, graduated in 4 years and started right in on a media career. Eventually I landed in a dream job that was anything but typical. I bet you'd never guess it. I know I never would have.
I took the classes, wrote the papers, studied and spent late nights in the computer lab. I clocked hours upon hours researching and fell in love with media, its impact and what it means to our world. My peers and I won competitions, and traveled to present to national companies. I spent time as a work-study student, mostly making copies and listening as I grew to admire how our professors poured into their work. I landed an internship that would serve as a gateway to test what I learned in our market's major media source.
After I had a successful internship at The Herald-Dispatch, I landed an Account Executive position with them, and it's where I decided ultimately to start my own business and change the course of my life in a powerful way. I spent a long time working for someone else, and working the hours someone else set for me. Don't get me wrong. I loved my work both when I was working in print and in broadcast media. Making $60,000 plus in the local market managing marketing and advertising campaigns was above average for our field and knew I was living a successful life, but I wanted more.
Beyond financial stability our degrees should help us strive to be happy and to know we are living our purpose. I decided I would use my degree from one of the best journalism schools in the country and my ten years of experience helping others create successful business strategies to put my gifts and talents into my own business. I wanted to provide the future I was dreaming of for my young family. I found a catalog for a gift company called Thirty-One, and I saw there a woman who was making the same money I was and only working a fraction of the hours. So after a little research I decided to give it a try. It took me one year to replace my corporate income, and after 5 years in business for myself I still only work about 20-25 hours per week providing for my family.
I took a $99 investment in an enrollment kit and a very simple website, www.mythirtyone.com/shopwithme, and turned it into a business. I know my degree prepared me well for growing my business, for helping others join my team and for working my simple business plan as I coach them to success. I have been able to enjoy the fun aspects of my "job" like being creative, traveling,  and of course, attending parties since I am in the party plan business.  I have been able to hire others to help me with reports and to make my newsletter "look pretty."  My degree may have taught me the skills to do it all, but let's be honest, not all of us are meant to be the graphic artist, the copywriter, or the numbers analyst.
My team and I always have great time at an event we've planned, at a Thirty-One party or on a team trip together. I already have seven trips in the works for 2016. Traveling was and still is a big part of my "why" for wanting more flexible work. I love always having trips on the calendar, and I can honestly say I look forward to both the business and personal trips, something that was not always true in my corporate life.
If you ask me what I do, I would say I treat women to a much needed "girls' night out," but it's deeper than that. As a company we are helping simplify our customers' lives through cute functional products, but it is so much more than selling a purse or a bag. It is about empowering others and impacting our communities.
Find your passion and be the very best wherever your degree takes you. I did.