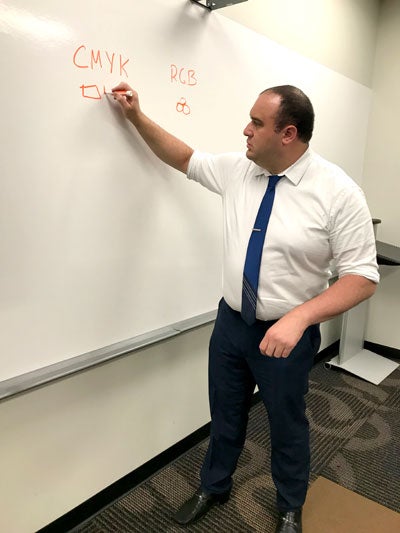 An old saying in academia is that we stand on the shoulders of the giants who came before us.
When I step to the lectern (not podium, thanks, Dr. Arnold) to lead my classes at the University of Memphis, I hear the words of my professors in the W. Page Pitt School of Journalism and Mass Communications. I hear Rebecca Johnson saying "Film is cheap" as she held up my CompactFlash memory card. I hear Dan Hollis rattling off key facts of media law, Janet Dooley explaining operational definitions in research methods, and Chris Swindell introducing me to metatheory on my first day of graduate school.
I'm fortunate to have two degrees from the SOJMC, my bachelor's in 2007 and my master's in 2010. I was a reporter for The Parthenon during the filming of We Are Marshall, and I was editor during the movie's release. I worked for three newspapers and two magazines in West Virginia and Kentucky, including the former Charleston Daily Mail as a front-page designer and sports web editor. But I saw my future was in the classroom and as a researcher, teaching the next generation of media professionals and answering the questions of the industry. I went on to earn my doctorate from the University of South Carolina, and I was hired as faculty at Memphis.
The most memorable experiences of my undergraduate years, of course, are tied to the filming of We Are Marshall. From getting on set at 5 a.m. or leaving after midnight from the filming of the Keith-Albee firetruck scene, my spring of 2006 is a blur of writing and designing and sets and cameras. That fall, on the 36th anniversary of the crash, I made a 24-hour trip to South Bend, Indiana, to the College Football Hall of Fame with my roommate and fellow journalism major Brad Bader to cover the first showing of the movie and the opening of a Marshall exhibit there. I filed my story from a rest area in Elkhart, Indiana, just before midnight, then drove the rest of the way home and managed to get through classes the next day.
My time in the SOJMC prepared me for every step of my future. I developed a strong design portfolio and well-rounded knowledge of content and storytelling. As a first-generation college student from Fairmont, West Virginia, making my way through life on campus, I valued the friends I made in the program and the faculty and staff who looked out for me as a wayward student.
In my classroom today, I hope I can be to my students what the faculty and SOJMC at Marshall were to me. I'm proud to stand on their shoulders.