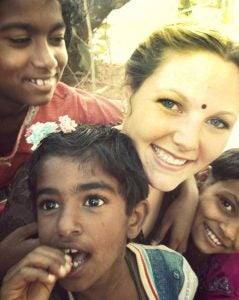 Say yes.
For those of you who knew me during "My Degree in JMC" knew that I was more involved than I could handle somedays. As a freshman I found a major I loved and a professor that believed in me, thanks Professor Dooley, and I hit the ground running. I was inquisitive and eager to not just learn but also do. I knew that classroom learning would lay a great foundation for my future but actually creating media plans, ad copy, and conducting research was irreplaceable.
Whenever a classmate, professor, or coach asked me if I wanted to be a part of something I always said yes. This attitude and willingness to tackle a task no matter how big or small lead to countless doors being opened. As a freshman I was able to travel to the AFF National Student Advertising Competition(NSAC) and watch the SOJMC students compete. That trip and the class of 2007 inspired me to lead the class of 2010 to the NSAC once again my senior year. In between my freshman year and senior year I said yes again and again.
I said yes to leading clubs. I said yes to extra assignments. I said yes to becoming a student athlete. I said yes to community events. I said yes to harder classes. I said yes to study abroad. I said yes to competitive internships. The SOJMC professors saw my habit of yes and new doors began to open and amazing opportunities have arisen. Once you fully commit to the SOJMC they truly invest in you. I had amazing professors each with unique passions and talents who coached, developed, and mentored me into the person I am today.
The foundation that was built at Marshall has carried me through multiple career paths. I began in K-12 educational communications in Berkeley County, WV. Then I was awarded the prestigious Vance and Betty Lee Stickell internship which took me to Dallas, TX to work at Slingshot LLC. With the premiere of Jamie Oliver's "Food Revolution" I was hired by Cabell County Schools to reinstill the public's confidence in the school system and county. After that contract ended I was able to design wedding invitations and stationary while competing for a 5th year as a hammer thrower on the Thundering Herd's Track and Field team while completing my Master's in Journalism and Mass Communications at Marshall.
After graduation I moved to Colorado where I found myself working in higher education. After a year of working in higher educations and years of working in K-12 school systems in the United States I found myself saying yes once again. This time it was a yes to uprooting my life and moving over 14,000 miles away. It was this yes that changed my path in life.
For the next two years I lived and worked in India. I used every skill, interaction, and communication theory I learned during my degree on a daily basis. Throughout my two years in India I worked for ten different schools, wrote for multiple travel blogs, including my own, managed all international volunteers for a non-profit, developed  and implemented community outreach campaigns, learned new languages and how to advertise, reach, and connect to people of different cultures and religions. Saying yes allowed me to find out that I not only love advertising but I love communication. International communication and community outreach became my new passion. After two years in India I transferred to Thailand where again I said yes. This time to developing an ESL program for a pre-k through 12 school on the Burmese border.
I have learned over the years that the knowledge, skills, and connections made during "My Degree in JMC" allowed me to travel the world. The research conducted into advertising market segments, products, and industry trends correlated extremely well into understanding other cultures' needs and wants when it came to education and community outreach. The graphic design skills I learned during layout classes allowed me to cross language barriers and reach larger audiences. The law and ethics classes prepared me to make hard decisions in split seconds.
I still occasionally work in traditional media and communication endeavors; contracting out small educational communication jobs in local Colorado school systems, writing for travel and leisure websites, and marketing my own company. However, my passion has shifted to community access to education and public health and I am currently pursuing my PhD. I like to attribute my plethora of experiences and vast body of knowledge to my Marshall JMC professors who saw my eagerness to learn and began asking more of me. They saw what I didn't and truly cultivated who I am today.
So my advice to you is always say yes! When a door opens take the opportunity. You may not enjoy that particular endeavor but it could lead you to something life-changing, eye-opening, and completely unique that would have never come about if you said no.  Allow your professors in, ask them questions, learn from them, learn from the community around you, find you passion and follow it.