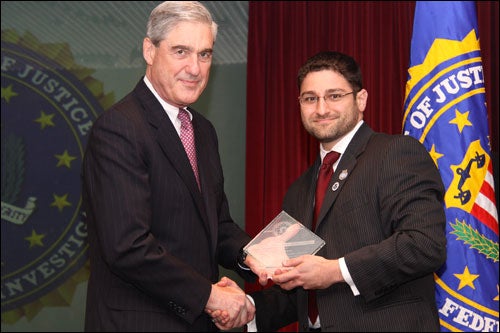 I still bleed green… twenty years later.  While I was born in Damascus, Syria in 1977, I was lucky enough to immigrate with my family to Huntington in 1987.  It became home.  My father taught at the Marshall University School of Medicine; my mother volunteered at various programs around town and with Marshall; my brother went to Marshall for undergraduate and graduate school; and I entered Marshall in 1994 and graduated with my BA in Broadcast Journalism in 1997.
Each of our journeys is unique. Throughout mine, my experiences at Marshall and my degree in Journalism and Mass Communications played a foundational role.  Upon graduation, I attended WVU for law school, but even before, my atypical approach to law school applications was buoyed by my degree in JMC.  In law school, I realized that my JMC experiences and strengthened abilities to present, project, and ultimately convey and communicate across varied points enhanced my law school tenure.
I graduated law school in 2001, as everything was affected by the tragic attacks on our country that fall, the path for me changed as well, and my media experiences at MU shone once more. Within weeks of 9/11 I found myself working as a civil rights attorney and advocating for understanding and communication.  In fact, I came up with the simple formula I still use today in my classes (but more on that later).  Understanding + Communication = Trust.  It's simple and I took that to heart.  I reached out to local law enforcement, FBI, and others to help offer added understanding about the so-called "post 9/11" communities, chiefly, Arab and Muslim communities.  I did countless print and television interviews about whatever the relevant topic of the day was relating to our balancing act between national security and liberty. Ben Franklin's quote on the subject always guided me: "Those who would give up essential Liberty, to purchase a little temporary Safety, deserve neither Liberty nor Safety."
In time, I began teaching police and FBI, as well as presenting at churches and community centers about Arab culture and Islam. Success bred success and with a growing need for greater trust, I decided to write a book on the subject.  Four years later, The Arab American Handbook (Cune Press, 2010) was published (www.ArabAmericanHandbook.com).  The book took my usual presentation and made it into print form. It also added very insightful guest essays and endorsements from the likes of Helen Thomas, Georgetown, and the FBI.  People in my sessions loved the balance of humor and serious content. Consequently, I was informed that I was a mix between a stand-up comedian and a professor and compared to Robin Williams's hyperactivity and hyper-witt.  It thrilled me to hear that my humor disarmed a serious and often intimidating subject.  People thought I should go on The Daily Show, and while I got some traction with Oprah and Ellen, none of those materialized.  Success bred success and as my efforts grew, more people knew.  In 2009, I received the FBI Director's Community Leadership Award and in 2011, I received the American By Choice Award from the Secretary of Homeland Security.  I believed I was making a difference, but there was much more work to be done.
Thirty years after immigrating to Huntington and 20 years after graduating from Marshall, I remain an ambassador to my city and my Alma Matter and I still salute with a "Go Herd" whenever I see someone in green and white gear.  Today, as I serve my country as a Senior Policy Advisor with the Department of Homeland Security, I still bleed green. Go Herd!